"Space… the Final Frontier. These are the voyages of the starship Enterprise. Her ongoing mission: to explore strange new worlds; to seek out new life forms and new civilizations; to boldly go where no one has gone before."
To all you Trekkies out there (oh c'mon… admit it) ever wonder what Captain James T. Kirk will do in the voting of the Reproductive Health (RH) Bill should he take the Enterprise at warp factor 12, sling shot around the sun, go back in time and witness the historic voting on the RH Bill in the Philippine Congress and Senate? Will he allow history to unfold or will he set his phaser on stun and zap Senators Santiago and Cayetano, as well as the Congressmen who voted for the Bill? I guess it depends whether Capt. Kirk is a liberal or a conservative. What do I mean by that? Well, I think there is value in understanding the thought process of different people instead of labeling one side as agents of Lucifer and the other side as out-of-touch relidiots. Although I must admit, this habit is tougher to break than trying to eject a morbidly obese man holding a Krispy Kreme donut while sitting in James Bond's car. Incidentally, James Bond is still harassing me to pay for the damage I caused to the seat ejection system of his car.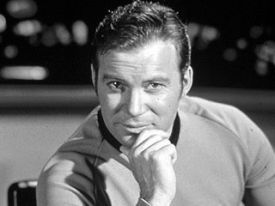 Okay let's start with the Prime Directive. The United Federation of Planets has a general order to its Starfleet that there can be no interference with the internal development of alien civilizations. So let's grant, for the sake of argument, that Capt. Kirk is an alien to Earth during Earth year 2012. If he knows from history available in the year 2248 that the RH Bill is going to lead the Philippine culture and civilization to further degradation and extinction and if he believes that acts that lead to human suffering and death are immoral, will Capt. Kirk still stand firm on his sworn duty to obey the Prime Directive or will he interfere and save the Filipino civilization from further degradation and extinction?
If Capt. Kirk is a liberal, I submit that he probably would still let the legislators vote in favor of the RH Bill. Why? Because liberals tend to be moral relativists rather than moral absolutists. For liberals, morality is not determined by a single holy book or institution. For liberals, each individual (or even each society) has the right for self-determination and to decide what is right for him/herself. If we are talking about a society, then the majority's voice in the society dictates what is right for that society. Hmmm… seems pretty consistent with the pro-choice mantra to me. For a liberal Kirk, every society has the right to decide for itself what is right or wrong according to its values and beliefs. Although Kirk has future knowledge of the consequence of such decisions, Kirk has no moral standing to stop the 2012 Philippine legislators for paving the way to its civilization's demise.
In contrast, a conservative Kirk will probably get Scotty to beam him down with an away-team to interfere with the RH Bill voting. For him, interfering to save the Filipinos from paving the way to their own extinction is like saying that what the 2012 Filipinos regard as morally right for them is in fact morally wrong. So in effect, this is saying that laws made by humans must be judged by higher laws or absolute truths. This is essentially the common denominator amongst conservatives. Of course this notion presupposes that "higher laws" or "absolute truths" exist. This also does not mean that all conservatives believe that God or gods exist. But what it is suggesting is that conservatives reason outward, from unchanging principles to policies.
Conservatives have no problem with absolutes. They embrace unchanging intellectual and moral yardsticks. They recognize that there are solid lines out there that separate right from wrong. Liberals don't like absolutes. If unchanging intellectual and moral yardsticks exist, then things can be measured! We know where that leads to, right? Ranking and inequality! Bobby, who is responsible and who is diligent in his studies, has higher grades than slacker Dan who is failing class. That's not fair! We ought to take Bobby's extra grades which he doesn't need anyway and redistribute those to Dan and others who are failing so that everyone is equal and no one is left behind. I've heard supporters of the RH Bill tout that the RH Bill is pro-poor, that it would give a chance to the poor to avail of more resources (since there will be lesser competition for resources with a drop in the population) and this will, in turn, elevate them to the middle class. Of course the funding to sustain the contraceptive freebies will be coming from the taxpayers, you know…. the ones who work for their money. So it would be okay to take from the "haves" to redistribute their hard-earned money to the "have-nots" so that in the end everything is equalized and balanced. Perhaps equality is the ultimate absolute moral truth for liberals and this end justifies whatever means is taken in order to get it, however unequal the means seem to be.
Look, I'm not saying which of the two (moral relativism versus moral absolutism) is right. The discussion may take us up to Stardate 38774 and we still won't reach a definitive conclusion on that. What I'm merely saying is that before we go out bashing people's view on the RH Bill, we ought to try to understand people's thought process in their value judgments as well.
Live long and prosper.
Calling a spade, a spade…