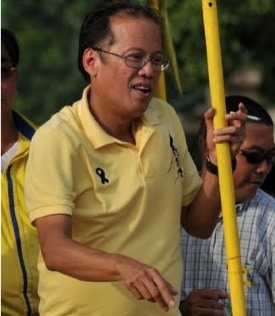 After taking a short break during the Christmas season, Philippine President Benigno Simeon "BS" Aquino is reportedly back feeling "recharged". It's been a busy 2012 for the President and his allies, indeed. He has been sick quite a few times during the year and it was a sign that his health was not a hundred percent up to scratch. His stress levels could have been higher than normal as a result of all the wheeling and dealing he was engaging in. All this had likely put pressure on his immune system and, together with his cigarette smoking, couldn't have been good for his active lifestyle. We all know that the Filipino people could use a break too from the incessant vindictiveness they copped every time the President opened his mouth.
It's not hard to imagine how President BS Aquino could be so stressed out. The Chief Executive has been relentlessly pursuing his agendas by allegedly strong-arming members of Congress into falling in line with what he wants.
Just to recall, he spent almost half of 2012 lobbying for the removal from office of former Chief Justice Renato Corona with unimpeachable charges that the President and his minions had
completely overblown
. Try to ask a regular person what exactly Corona did to deserve getting kicked out of office and I doubt if he or she would be able to tell you the details without quoting Senator Lito Lapid. Filipinos forget that some Senators who found Corona guilty
committed worse crimes
than what he was accused of. Some won't forget that the push for Corona's removal had a lot to do with the Supreme Court's decision in 2011 to finally grant the vast sugar plantation owned by the family of President BS Aquino to farmer-beneficiaries.
After removing Corona, the President and his allies spent a few weeks trying to distract the people with news of who is favored to be the new Chief Justice and the televised "interviews for the job". Yet all the while his plan was afoot to fill the vacancy in the Supreme Court with his college buddy, Lourdes Sereno anyway regardless of whether or not there were more qualified people on the list of nominees from the Judicial Bar Council.
As mentioned in the past, unfortunately, all is not well in the Supreme Court under Sereno's watch. While Corona brought unity in the SC during his stint, Sereno has brought in division among the members of the SC particularly with some associate justices alleging that she issued a fake resolution without their knowledge. Despite this shocking revelation, President BS Aquino and his allies particularly in the mainstream media remained conspicuously quiet about this.
The Philippine Daily Inquirer would normally place news on allegations of corruption on their front page for days when it involves President BS Aquino's political enemies but they hardly paid attention to Chief Justice Sereno's alleged fraudulent activity. They chose to play dumb and pretend everything is going well in the Supreme Court. At least Senator Kiko Pangilinan acknowledged that there was something amiss in the judiciary. He blamed it on other justices who he said are just resentful for missing out on the Chief Justice position though.
After installing a friend in a lucrative post in the Judiciary, President BS Aquino reluctantly had to let go of another close friend, former Department of Interior and Local Government undersecretary Rico Puno, when the latter got embroiled in a controversy involving the late Jesse Robredo who died in a plane crash last August. The timing of Puno's resignation was quite suspect. It was three days before a Senate committee started its investigation on the allegations of impropriety. Conspiracy theories abound as to whether Puno had something to do with Robredo's plane crash. But the President quickly quashed this theory by declaring the crash an "accident". Nevertheless, they perhaps decided that Puno had to go to stop people from speculating further.
Some sectors have been calling for Puno's resignation since 2010 when he bungled the Mendoza hostage crisis and over allegations of his involvement in the illegal numbers game jueteng. Yet when he finally handed in his resignation, he used the excuse of giving his friend, President BS Aquino "a free hand to the incoming Secretary in forming a new team."
Puno's "graceful" exit was not a problem because the President has a steady pool of friends ready and willing to take up any vacant government posts. Never mind if they are not even qualified. Of course the vacated post in the DILG went to his other long time friend Mar Roxas who had been floating around since losing his Vice Presidential bid to Jejomar Binay.
While things seemingly remain "under control" for the President locally, this is not the case for the way he handles some issues involving the international community particularly the diplomatic row with China over the disputed Spratly group of islands and the Scarborough Shoal. At some point tensions between China and the Philippines had escalated into something that could have led to a full-on war with China sending 40 warships to Panatag Shoal.
Enter Senator Antonio Trillanes. The convicted mutineer surprised everyone especially Senator Juan Ponce Enrile this year when he
admitted to his role as a secret envoy to China
with the blessing of President BS Aquino. Trillanes' special relationship with the President seemed to have come to a quick end though after the Senator could not stop himself from boasting about his "secret" role. Confusing statements from both parties turned the public's interest away as usual. On one hand, a news report said that it wasn't President BS Aquino's but Executive Secretary Paquito Ochoa's idea to use Trillanes as peace negotiator for China. Owning an idea seems to depend on its success. As in most cases, when an idea doesn't work, no one wants to own it. In any case, Trillanes' penchant for claiming ownership for something that didn't work seemed to have made him an outcast in the Senate.
Another issue that had taken the Filipino people by complete surprise this year was the quiet passing of the Cybercrime Prevention Act or the Cybercrime Law. Like the Grim Reaper that quietly visits in the night to suck the life out of those who are unfortunate enough to cross his path, the cybercrime law will tend to suck out what's left of the Filipino people's enthusiasm for criticizing their government into shape. As the protests against the law became louder, it emerged that some lawmakers who signed the law didn't actually read it. They used the excuse "it was a personal oversight" or that the libel clause was included without their knowledge.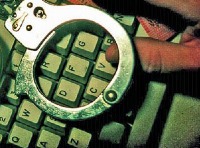 In a series of developments that quickly turned into a major comedy of errors, those who rushed to pass Cybercrime Law were quickly issuing promises to amend it. The public uproar made some lawmakers distance themselves from the ill-thought-out provision criminalizing any statement made online that can be construed as libelous. It was also reported that it was Sen. Vicente Sotto III who proposed the inclusion of the libel clause in the Senate's version of the bill during the period of amendments last January 24. But ultimately, it was President BS Aquino who signed it into law. The act is being called the end of freedom of speech and a signal that a new dictatorship is in place.
Then there is the infamous Padaca scandal. This may or may not have contributed to President BS Aquino's stress but he took 70,000 pesos of his own pocket money and gave it to former Governor of Isabela, Grace Padaca for her to post bail. It may not be much for a
haciendero
like the President but it is a lot of money for normal folks. He obviously didn't worry about what people had to say about using his own funds to save a party-mate.
Padaca who is (still) facing the graft and malversation cases was also awarded with the post Commissioner of Commission on Elections (COMELEC) for simply being a loyal Liberal Party member. Never mind that she doesn't seem to have what it takes to be a competent commissioner and never mind that she will likely have to repay the President for his "generosity" one-way or the other. It remains to be seen how "independent" she can work with all the money and kindness she owes the Liberal Party.
President BS Aquino likewise came up with a worry-free solution this year to the Mindanao conflict involving Moro separatists: give them what they want. The "historic" Framework Agreement is basically a license for the Muslim rebels to claim parts of Mindanao and eventually pave the way for secession. Christians who reside in parts of Mindanao can forget about being part of the blueprint with the implementation of Sharia Law.
Speaking of secession, Cebu and the rest of the Visayas may as well call for independence from the Capital since Malacañang has no qualms about wreaking havoc in the region by sticking their nose into other people's jurisdiction. Cebu Governor Gwen Garcia is
crying foul over her suspension by the DILG for allegations of grave abuse of authority
. She and her powerful army of supporters, which includes no less than the Vice-President, calls her suspension illegal and even "outrageous" because it violates the Local Government Code, providing that the Office of the President must decide within 30 days after an investigation of the case. It's a showdown that will certainly keep the Filipino people entertained as we enter 2013 for as long as Garcia can keep herself holed up in her office.
The higher you are the harder you fall. The saying is true for the 7.1% economic growth rate that President BS Aquino and his team were boasting about. The more they emphasize the growth rate, the more it is becoming obvious that such a rate of economic growth is not enough to lift the economy from its Third World status. Only job creation or providing livelihood to the unemployed can make a difference to the rest of Filipinos living below the poverty line. The growing number of people who cannot afford to eat will just offset any economic growth.
Like I said before, it is such a shame that President BS Aquino and his minions continue to credit only his administration for the latest glowing economic growth statistics or for whatever projects that were finalized or something that he is just continuing but obviously was initiated by the previous administration. His public relations team is hell-bent on painting him as the architect of the country's perceived good performance compared to its ASEAN neighbors. They even brand it "Aquinomics". They think the people are gullible enough not to know that the economic policy he is using is actually based on classic Keyenesian Economics of spending, which former President Gloria Arroyo used during her term.
Speaking of GMA, President BS Aquino considers her hospital arrest an "achievement". Never mind that the charges against her are based on a body of flimsy evidence and never mind that the same charges have not been proven in court. This speaks volumes about this current administration's double-standard. The President can easily proclaim someone innocent of charges if that person happens to be an ally as in the case of Grace Padaca but at the same time, he can proclaim someone guilty if that person happens to be his political enemy as in the case of GMA, Corona and Garcia.
Depending on where you stand, the passing of the Reproductive Health Bill can spell success or doom for the country. The RH bill that was signed into law before the New Year has certainly divided the nation. It remains to be seen whether Filipinos can actually implement what some say is another flawed legislation. Considering our track record for ignoring the law, one cannot blame those who doubt the intended result of the law. Will it result in a more stable and healthier population or will it result in a more promiscuous population? One thing is for sure; promiscuity already existed even before the passing of the reproductive health law. How else would you explain the booming population?
No matter where you stand, the official statement from Malacañang spokesman Edwin Lacierda was "2012 best year in a long time". It doesn't matter that two years after having won the election, much of the country still experiences Ondoy-like floods that bring many industries — including the vital financial services industry — to their knees just like what happened in August. It doesn't matter that the damage caused by Typhoon Pablo in Mindanao has risen to P36.949 billion. It doesn't matter that the death toll has risen to 1,067, with 2,666 injured and 834 still missing. It doesn't matter that 13,940 people are still staying in 87 evacuation centers.
Yes, for Lacierda, 2012 is the best year in a long time especially with the President's sister, Kris Aquino's movie Sisterakas coming out a box office success. Let's just hope President BS Aquino did get some rest during his break because he has to engage in more wheeling and dealing ahead in the coming year specially in the lead-up to the senatorial elections.
In life, things are not always what they seem.