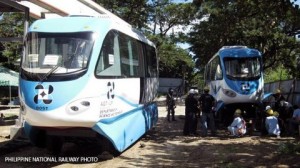 If you are a regular visitor to the Diliman campus of the University of the Philippines, you are no doubt aware of the almost-completed construction of the Automated Guideway Transit (AGT) test project, a joint venture of UP and the Department of Science and Technology. For those who have not seen it, the AGT (not a "monorail", but go ahead and call it that if it helps you understand what it is) is an electrically-powered autonomous light train on an elevated concrete guideway that should augment and eventually replace the oversupplied, aging, dangerous, environmentally destructive, visually embarrassing, and technologically retarded fleet of "Ikot" jeepneys that currently provide commuter transport around the sprawling campus. Should, if the 'popular media' (I use that term very loosely, considering the source), anonymous transportation 'experts', and the existing transportation sector (such as it is) were not doing their level best to kill the project with PAP before it literally gets rolling.
"Pap" is an arcane English (English, despite not being the easiest language to learn, is commonly spoken by many people around the world. I know that comes as a surprise to a lot of people here.) word meaning "lacking in depth and substance and considered worthless", and is a perfect description for way it is used here, i.e., a keystroke-saving way to write "Pinoy Attitude Problem." There is absolutely nothing about the AGT which should make anyone less than completely ecstatic; it's not new technology, but a smart application of proven existing technology, clean, quiet, fast, and most significantly – in something that should resonate with Pinoys' overweening sense of pride, were they not more concerned about irrelevancies such as whether or not moon-faced Pia Cayetano feels their sex lives are satisfying enough – the system is entirely designed, funded, and built in the Philippines.
But no, rather than promoting this ambitious, sophisticated, and totally home-grown achievement, the people who would ultimately benefit from it instead express, and not at all subtly, a desire to see it fail. Rather than highlighting the future positive potential of the system, or even just objectively describing the project in the spirit of balanced news, Rappler instead suggests that the 'livelihood' of the Ikot drivers (a total of 60 people, mind you, in a metropolis of 14 million) is a greater concern. At the same time, an 'expert' – one who obviously knows at least a little about the topic, but chooses to share his insights as electronic graffiti – dismisses the project as a mere "proof of concept" (Note to Mr. Expert: The proof of concept was the small test track built at the DOST facility in Taguig. This is actually an operational test.) and declares it "not viable for the foreseeable future", suggesting funds – which he seems to have certain knowledge are unattainable anyway – would be better spent on other things.
I don't get it. Pinoys obviously do not fear new things, else they would not trip over each other and themselves to be first in line to own the latest gadgets or spread the latest fad, and to take pride in doing so. But show them something big, practical, and which they can legitimately take pride in – and for which the rest of the world can view them with legitimate approval – and they cringe in terror.
I write a column for The Manila Times on Tuesdays, Thursdays, and Saturdays. Most of the energy sector and the heads of several government agencies probably wish I didn't.