BenignOÂ is right in a way that I cannot disagree with, but only particularly in the point where he refers to the Reproductive Health Bill as some form of population control.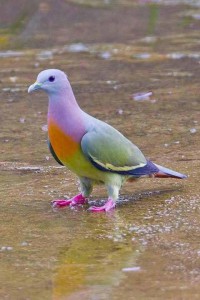 As a form of population control, if it can be called that, the RH bill isn't exactly like controlling rampant pigeon populations by feeding them "birth control" chemicals or a neutering drive for cats and dogs.  In fact, the RH Bill doesn't say anything about controlling population growth and perhaps there was some conscious effort to keep the word "control" out for a number of reasons.
What it is counting on to be effective is that, through massive education and information drives, people will avail themselves of the benefits of various methods of contraception.
Fine. I am all for that and while we are at it, let's check if the other stuff that wage earners are paying for through their taxes are being used.
Let's just take up one example: Pedestrian crossings, pedestrian overpasses, pedestrian underpasses, and sidewalks.  The benefits are obvious, use these things and you don't end up splattered on cement/tarmac.  If you ever go through sections of Aurora Boulevard in Cubao, you'll see how people just cross the street from all directions.
But, of course, I have to admit that there is a vast difference between people who opt for jaywalking because it's too much of a bother to cross streets safely  and people don't use contraception because its  just too inconvenient to buy (all 7-11's and Minimarts as well as drug stores have them at the counter) or costs too much (all of P30 pesos, which costs as much as a bottle of Tanduay ESQ or Ginebra San Miguel gin).
The point here is that in order for the RH Bill to make any dent in the growth of the country's poor population, the government ought to be effective in getting people to use the free contraceptives and other services.
And the government's performance in this matter won't be felt manyyears after the measure has been implemented.
So, in the mean time and while we wait for the numbers to come in, later this afternoon I intend to spend some time with a couple of friends who support the RH Bill and buy them a couple of drinks.