I mean, really, does one need to even make a press release about something one did not do? I'm referring to a recent statement issued by Malacañang with regard to the level of interest Philippine President Benigno Simeon 'BS' Aquino III has shown for a big event that had transfixed Filipinos over the last couple of days — the sixth-round knockout of Pinoy boxing champ Manny Pacquiao in the hands of Juan Manuel Marquez…
In an interview, Presidential Spokesman Edwin Lacierda said he and the President failed to watch the fight yesterday because Aquino was waiting for updates on search and retrieval operations of the National Disaster Risk Reduction and Management Council on typhoon-hit provinces in Mindanao.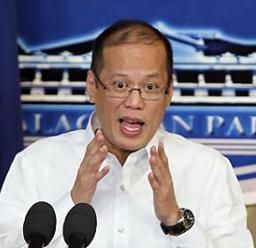 What is the message that Malacañang wants to bring across to Noynoy's "bosses" by highlighting that the President did not watch the fight? It seems to me like more of a bad case of overcompensation for the President's extensive history of slackness in the face of national crises — revelations of his late rising in the early days of his presidency, his dining at the Emerald Restaurant while Rolando Mendoza slipped into homicidal hysteria in 2010, and his reported partying with starlet Valerie Concepcion as Sendong devastated the cities of Cagayan de Oro and Iligan in 2011, among others.
It could also be a bit of presidential guilt over the veto of an additional Php5 billion allocation to the Calamity Fund that could've gone to enhancing the country's state of disaster preparedness…
Kabataan Party-list Rep. Raymond Palatino pointed out Aquino's veto message for the 2011 budget. There, Aquino said: "I caution the inclusion of pre-disaster activities such as preparation of relocation sites/facilities, and training of personnel engaged in direct disaster in the use of the Calamity Fund. While said purpose is laudable, the same must be weighed against the imperious need of maintaining sufficient provision under the Calamity Fund for actual calamities and prevent its full utilization for pre-disaster activities…"
…which, if you refer to the Law, could arguably be considered boderline criminal from the perspective of Republic Act 10121 also known as the "Philippine Disaster Risk Reduction and Management Act of 2010" which clearly stipulates that the Calamity Fund be "used for disaster risk reduction or mitigation, prevention and preparedness activities such as, but not limited to, training of personnel, procurement of equipment, and capital expenditures." The law also stipulates a punishment of up to 12 years imprisonment and "perpetual disqualification from public office" to offenders who happen to be public officers.
Whatever it may be, the appropriate reaction to these sorts of "statements" issued by Malacañang should be, well, whatever…. BS Aquino, after all, is the President who sees his constituents as his "boss". If the boss likes watching a boxing match over a few beers, then by all means, join the boss and have a few beers while watching the boxing match. Whatever. The key to being a hot-shot chief executive is cutting-edge multitasking and recognising and managing priorities.
You won't get judged for catching a great fight on TV in between doing imporant work if you enjoy an outstanding track record of doing your job well to begin with.
benign0 is the Webmaster of GetRealPhilippines.com.