Thanks to GR Post commenter 'FelYounghusband' for a comment she posted on my previous article "Where was Philippine Congressman Manny Pacquiao when Typhoon Pablo devastated Mindanao?" as it eloquently consolidates and summarises commentary posted by a few others. The following excerpt I believe encapsulates the point FelYounghusband and a few others were trying to bring across:
I don't think it is fair to judge the boxer as if he was some cold-hearted person for being there boxing while we were hit by the typhoon. What was he supposed to do here? Row the boats for his countrymen. It seems that everything that he has done for his people in the past can just be ignored just because he was there to stick to a commitment he made to the sport that gave him everything. The Pacquiao companies that are now employing hundreds of Filipinos were all made because of his career. Being a congressman, his primary duty is legislative in nature but disasters are normally the responsibility of the offices under the president and the LGU's.
My response: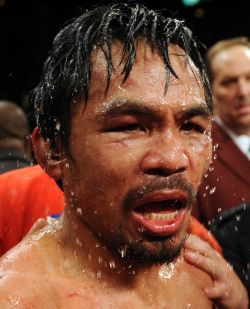 I'm not saying Pacquiao is a "cold-hearted person". What I'm saying is that circumstances surrounding the Champ, one of which is his being a pro-boxer mixed with his being a government official, imposed a compromise on his latter role as public servant.
To be sure he did not consciously want to be away from his constituents at their time of need and, as some commenters here pointed out, the match was scheduled months in advance while Typhoon Pablo was a random tragic freak of nature.
I do not second guess what his voters think of him as it is quite certain that they will adore their Champ warts and all. Rather I do, as I have clearly stated in the article, cite the way some 'activists' and media people make a big deal of how other Congressmen manage to find the time to fly to Vegas to watch the fight conveniently forgetting that Pacquiao too is himself a Congressman.
For that matter, it is not just being away from the country in times of disaster that gets Congressmen (whether they are a boxing champ or not) in hot water. Legislators like Lito Lapid and Bong Revilla et al routinely get criticised for nursing a showbiz career alongside being government officials. I am questioning in my pervious article why Pacquiao is so special as to be spared similar criticism.
Indeed, some people will bet good money that Kris Aquino will, herself, be President someday. I do not think even that otherwise ridiculous notion (in normal societies) is that farfetched a scenario as I wouldn't put it past the Pinoy voter to vote such a person to the highest office in the land.
My point is, politics in da Pinas is already so mediocre as it is and it would help if Pinoys learn to habitually expect no less than A-Plus performance from their politicians to at least motivate them to get to C+. But if we uphold a mere B- standard as we seem to be willing to maintain then we shouldn't be too surprised if our so-called "leaders" routinely step up to a mere F+.
If I had a kid who is a top-notch athlete but regularly gets C minuses at school, I wouldn't be too happy. Unless you are quite certain you will be a successful pro athlete (a one-on-a-million shot at best), it is not very likely that a focus on sport will buy you that Mercedes Benz ten years hence. One needs to make a choice as to which underaking is the more important in the bigger scheme of things.
For some, being a pro boxer (or an actor, or a basketball player, or the Megastar's husband) is, perhaps, a valid excuse for being a mediocre politician. But for me excuses are necessarily convenient veiled advanced apologies for an expected future of mediocre performance.
As voters, Filipinos should have thought through properly whether they wanted to be represented in the legislature by a boxer who will make them "proud" over what (optimistically) may be another 2- to 3-year stint as the pound-for-pound Champ or a thought leader who will craft laws that will serve the country decades hence. True legislators earn their mark on history not by doling out money (in this case, money that is but a small percentage of their vast personal wealth). They make their mark by doing their job — creating laws that leave lasting legacies — properly.
benign0 is the Webmaster of GetRealPhilippines.com.