In a feature article on the 24th November 2012 edition of Good Weekend, the weekend magazine of major Australian broadsheet The Sydney Morning Herald, Aussie journalist Jackie Dent writes about her experience speaking to the surviving family members of the late former Philippine President Ferdinand Marcos. The article delves into the rise and fall of the Marcos regime and insights provided by family members, notably wife Imelda and children Maria Imelda (Imee) and Ferdinand Jr (Bongbong), of their experience living through all that.
A notable excerpt from the article offers us Marcos's eldest daughter and current Ilocos Norte Governor Imee's remarkably candid take on the banal reality of dynastic politics in the Philippines…
Imee — whacky, wise-cracking and a crush for some male journalists in Manila, the capital — admits she struggles with the governor's job she has "avoided for years"; she'd rather be in Manila, making films, cartoons and games with Cream, her production company. Her film career has had some success, too; her part-animation hip-hop fairy tale, Pintakasi, won a number of awards at the recent Metro Manila Film Festival. But she was forced to take on the job when her cousin, Michael Marcos Keon, who became governor of Ilocos Norte in 2007, declined to run again in 2010. No one else in the family was available or interested.

Why does a Marcos have to run all the time? "It's the whole Filipino system — they really count on you, they have all these expectations," she tells me. "Your family is taking care of their family, which is taking care of your family and it just goes on and on and on. It's pretty feudal in the Philippines still, even though we like to fool ourselves."
Dent jumps off this to continue her own observation…
It is normal in the former US and Spanish colony for families to control provinces for generations — the Laurel clan run Batangas, the Osmeñas control Cebu, the Lopez family manages Iloilo. The Aquinos — arch foes of the Marcoses — have run Tarlac for five generations and are currently the most powerful clan, with Benigno "Noynoy" Aquino III now president, a job held by his mother Corazon (or "Cory"), who succeeded Ferdinand Marcos in 1986. The animosity between the two families is akin to that of the Montagues and Capulets. Like a grand sporting game, Filipinos root either for a Marcos or an Aquino. Or hate them both.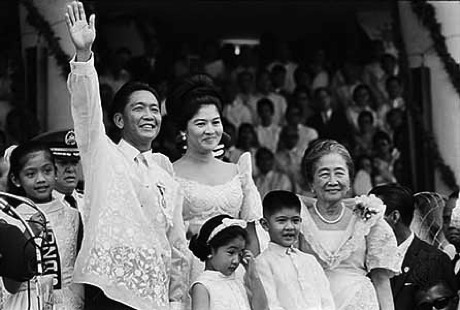 Coming from an Aussie journalist, this is a spot-on summarisation of the Third World "democratic" politics of the Philippines — a country ruled by an elite clique of politically- and financially-savvy oligarchs by virtue of the popular vote that seals their mandate to govern. Dent also quotes veteran journalist Carmen Pedrosa who offers what most Filipinos already know — that it is really all just the same whoever sits in Malacañang and it is likely that history will simply repeat itself…
Pedrosa says dissatisfaction with the current Aquino regime has led people to ask whether the Marcoses were so bad. "They contrast the two families and say things like: 'At least during Marcos's time we saw things being built and now there is nothing, just incompetence,'" she says. "There is also disappointment that we had a revolution but it did nothing to change lives. People think: 'What does it matter? It is just the same whether we have Marcos or Aquino.'"
Indeed, who sits in Malacañang ultimately does not matter as the Filipino vote is in reality a random and arbitrary force that surfs the tide of whatever the national mood might be following the most recent episode of the most popular TV telenovela that may happen to have been aired the previous night. It is a simple political equation in a country where personality trumps ideas when it comes to evaluating options.
benign0 is the Webmaster of GetRealPhilippines.com.