We recall back when President Benigno Simeon 'BS' Aquino III was in campaign mode (as if the President ever got over such an operating mode) that the President reportedly put up the Freedom of Information (FOI) Bill as an absolute priority of his administration…
Presidential frontrunner Sen. Benigno "Noynoy" Aquino III said last Sunday that the Freedom of Information bill — a landmark piece of legislation that will lift the shroud of secrecy over government transactions and data — will be a priority of his administration.

This was after Congress adjourned sine die last Friday without the bill's ratification by the House of Representatives due to lack of quorum.

Asked in an ambush interview if he would prioritize the Freedom of Information bill once he assumes office, Aquino categorically said, "Yes."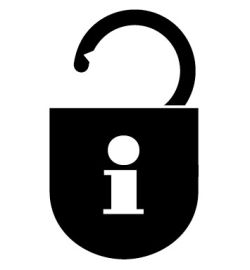 The FOI Bill will have enshrined in Philippine Law the "the right of the people to information on matters of public concern, and adopts and implements a policy of full public disclosure of all its transactions involving public interest." It will also have assured penalisation of any public official who within the required period fails to comply to legitimate requests for qualified information under the Act.
But as far as priorities go, President BS Aquino obviously had other things in mind — particularly those that are more clearly aligned with the singular mission of his presidency, which is to secure Uncle Peping's family jewels — the vast Hacienda Luisita estate in Tarlac — from subjection to agrarian reform. The key objective to take down in this mission was then Supreme Court Chief Justice Renato Corona who many Aquino allies saw as the primary roadblock in the road to securing the family estate. With Malacañang's saturation drive against Corona taking up practically all of the first half of 2012 serving as a backdrop, BS Aquino's presidential attention to the hapless FOI bill looked utterly lame…
SUPPORT INDEPENDENT SOCIAL COMMENTARY!
Subscribe to our Substack community GRP Insider to receive by email our in-depth free weekly newsletter. Opt into a paid subscription and you'll get premium insider briefs and insights from us daily.
Subscribe to our Substack newsletter, GRP Insider!
Learn more
In January 2012, at the height of the Corona impeachment trial, [President BS Aquino] all too suddenly endorsed the bill, albeit in a few perfunctory press statements only. But in the next eight months, nothing more was heard from him by way of real proof of endorsement of the bill.

The President's Liberal Party allies in the House, led by Speaker Feliciano Belmonte Jr. and Majority Leader Neptali Gonzalez III, did not move either. They neither pushed nor nudged the bill to fruition. Evardone did not call committee hearings until today.
Contrast this to the robust presidential resolve exhibited by BS Aquino when he personally oversaw the railroading of a sloppily-written impeachment complaint versus then Chief Justice Corona through Philippine Congress, even leveraging his fury against the entire Lower House practically all of the required number of whose members complied, tails between their legs…
[House Speaker Feliciano] Belmonte and another Liberal Party stalwart, Cavite Representative Joseph E.A. Abaya, revealed that a "furious" President Aquino wanted a "fast" impeachment against Corona after he and seven other Arroyo appointees had issued a temporary restraining order (TRO) to block the travel ban against Arroyo.
Contrast this presidential resolve when it comes to feudal clan matters to the limpdicked resolve when it comes to the interests of the general public and we will get a good handle on the true priorities of Philippine President BS Aquino.
* * *
So we must ask ourselves…
Will the forces of "freedom" prevail in this virtually-lost cause?
Will the powers-that-be succumb to the hapless cries of outrage of their "Boss"?
Is the FOI Bill dead?
Does the Filipino voter really care?
As usual: Abangan ang susunod na kabanata… Same Bat time, same Bat channel…
benign0 is the Webmaster of GetRealPhilippines.com.