A bum stomach. It is indeed unfortunate that President Noynoy Aquino (BS Aquino) fell ill during most recent trip to Australia. It is due to this illness that he had to cut short his attendance to a state banquet hosted by Australian Prime Minister (PM) Julia Gillard.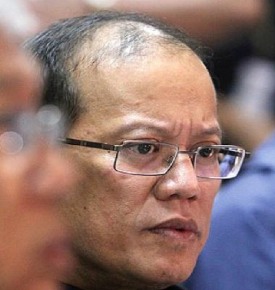 Not that I, or any of BS Aquino's critics, or even anybody sane, for that matter, wish any harm to befall our President, but it was tempting to entertain the thought that perhaps this is karmic retribution. After all, our dear President has not let up his persecution of former president Gloria Arroyo, even after she had already been confined to a wheelchair. Doctors have already asked several times for her to be allowed to seek medical treatment abroad , yet the Palace continues to downplay such requests. Yet have you heard anything from the Palace that they have finally "verified" the findings on GMA's condition? No, they seem content to detain her in a hospital room and keep her there, regardless of what might happen to her. All in the name of "making sure she does not evade justice." Add to this the report of BS Aquino recently cracking a joke during his recent trip to New Zealand, which insinuated that his political enemies may be faking their illnesses by using wheelchairs.
Now, I doubt anybody can tell me how in the world BS Aquino can suddenly spew out medical diagnoses and judicial opinions as if he knows these sciences like the back of his hand. That's exactly what he's been doing. Maybe BS Aquino is taking his cues from an obscure American TV series called The Pretender. He sees himself as a genius, a prodigy with the ability to become anyone he wants to be. Well, in PNoy's case, there's one hitch: he can become anyone he wants to be – except a President of the Republic.
Perhaps, if PNoy can make such definitive and definite conclusions that his political enemies are faking their illnesses, we can also conjecture that perhaps there was an "ulterior motive" for his bum stomach. In other words, we can speculate on a few reasons why he suddenly "fell ill" in Australia.
BS Aquino is allergic to unsanitized Q&A sessions
Had he stayed on in that state dinner, BS Aquino would very likely have encountered a question and answer (Q&A) session with the people present there. Now, our president and his staff are fond of sanitizing questions that are thrown to him. Hell, if I were BS Aquino, I would make sure that the questions I field are the ones I can spin and make me look good. Ayaw ko mapahiya, siyempre (Of course I don't want to make a fool of myself.) Naturally, if you entertain Q&A sessions while a guest in a foreign country, you have less chance of doing this. So, why take the risk of humiliating yourself by encountering a question that you may not have the answer to? Especially with the news that the case against Arroyo of malversation of OFW funds was dropped, that would have been a potential question that would have not put him in a very flattering light.
Call in trump card: bum stomach!
BS Aquino might not have withstood a potential grilling by PM Gillard
PM Gillard recently made news with this Youtube video. In it, she basically calls out opposition member Tony Abbott during an Australian parliament session and labels him a misogynist. The opposition has accused PM Gillard's government of hypocrisy for standing by former Speaker Peter Slipper, who had been accused of sexual harassment, and consequently resigned.
Now, how would this affect BS Aquino? While he has shown an incredible lack of foresight in charting out where he wants the country to be in the future, he may have shown a bit of it here. No doubt that PM Gillard's aides would have picked up on his wheelchair joke and she would have asked him a few questions about it. Why risk being exposed as a misogynist and biased against people with illnesses when you can continue to ride on your seemingly unshakable popularity abroad?
Call in trump card: bum stomach!
There you have it. Let me reiterate: these are mere speculations. You are free to believe BS Aquino's personal account of his illness. But let me remind you of one thing: I am pretty confident that my speculations here on BS Aquino's bum stomach will hold water, compared to his as-of-this-writing baseless allegations that his political enemies are faking their illnesses in order "to evade justice", so to speak.
With that being said, I do wish BS Aquino to get well soon, because the problems that his administration are facing, ignoring, and most likely aggravating, do not recognize his sick days off.
А вы, друзья, как ни садитесь, все в музыканты не годитесь. – But you, my friends, however you sit, not all as musicians fit.