Nowadays, it seems like the Roman Catholic Church is getting a long-overdue media boost, what with the recent canonisation of new Filipino saint Pedro Calungsod and the elevation to Cardinal of Manila Archbishop Luis Antonio Tagle by Pope Benedict XVI. Filipinos in their renownedly short attention spans have lapped it all up. Nothing like good old fashioned PR saves the day for an old feudal institution that has suffered the wrathful tweets of the Philippine intelligentsia over the last twelve to eighteen months at least.
Fact is, the most avid folk amongst the Catholic flock are largely poor and under-educated Filipinos — the most susceptible to succumbing to the opiates of pomp and pageantry. In one heady media blitz that lasted no more than a few days, the Church has regained its footing in the lofty pedestal Filipinos reserve for their cherished can't-ever-do-no-bad heroes. Indeed, Filipinos are feelin' the love…
Henrietta de Villa, a former ambassador to the Vatican, said: "I'm ecstatic. God must really love the Filipinos. Only last Sunday, the gift of a new saint, St. Pedro Calungsod, an example of faithfulness and selfless love. Now, a new cardinal for the Philippines, one who follows the Lord, is humble of heart, and teaches with authority because he lives what he preaches."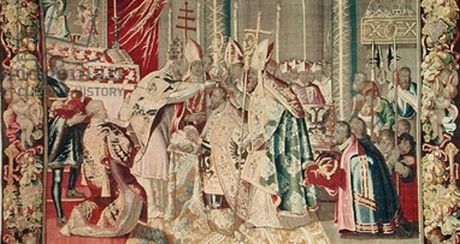 Perhaps in the midst of a media-induced emotional high sweeping the A.D.D. generation, one will always come across as a wet towel when reminding people of what is real. The reality is that these ancient ritual affirmations of power — anointings, endorsements, blessings, and appointments — in whatever manner of ceremony made with all the expected pomp, pageantry, and the melodramatic "reflection" that accompanies these have been shrewdly designed, crafted and honed to capture the minds and hearts of subject people for centuries and distract them from the more earthly business of thinking.
The wielding of power, boiled down to its fundamental essence, is an exercise in constantly reminding people who's boss. The Vatican has turned this into a science with its use of glitzy costumes and colourful rituals to drive home the only point that really matters to the powerful. Its spectacular displays of anointings, endorsements, blessings, and appointments are subliminal reminders to everyone that it alone can confer what are essentially arbitrary honours of sainthood and cardinalhood to supposedly "exceptional" human beings. The Church held this lucrative role in the past two millenia — serving as de facto monopoly endorser of a raft of monarchs whose only claim to power were their birthrights sealed by nods from God brokered by popes and bishops.
Does one need to be a "cardinal" to serve? Does one need to be a "saint" to be adored? Filipinos seem to think so.
And we wonder why the Filipino people continue to be a "free" people who use said "freedom" to elect bozos and douchebags to office. It is because they fix their gazes on miters and halos rather than apply their minds to appreciating substance and understanding issues.
benign0 is the Webmaster of GetRealPhilippines.com.