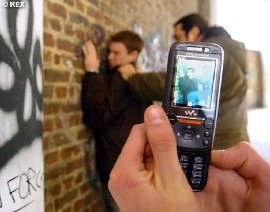 It may be an ironic first test of the Philippines' newly-minted Republic Act 10175 or the Cybercrime Prevention Act of 2012. News broke this morning of what could be the first high-profile incidence of cyber-bullying over social networking giant Facebook since RA 10175 came into effect. The incident involved a nephew of embattled Philippine Senator Vicente "Tito" Sotto III, Stephen Michael Gamboa Bacosa who allegedly sent a seemingly threatening private message to musician and television show director Adrian Arcega. GMA News reports…
[Bacosa] sent a private message to a certain Adrian Arcega, saying: "Pare dahan dahan lang sa pambabastos mo sa uncle ko ha? kilala kita. ka batch ka ng utol ko!! kung cyber bully ka, ako BULLY sa real world at alam nyo yan." [Translation: "Dude, watch your back with regard to your rude remarks about my uncle, ok? I know you. You are in the school batch of my sibling!! If you are a cyber-bully, I am a BULLY in the real world and you all know that."]

Arcega replied: "How 'exactly' ako nambastos? ['How exactly was I rude?'] Don't forget, I (and the rest of the people) am your uncle's boss. Whether I'm right or wrong, it comes with the territory."

The screencap of these messages is currently making the rounds on Facebook.
As of this writing (11:50am 04 Oct 2012 Australian Eastern Standard Time), Arcega had set the image of the screencap to "Private" on Facebook where he presumably had uploaded it. In a subsequent update by Arcega on his Facebook profile, he wrote: "I set the screencaps to private. I figure enough people know, so my protection (or at least if something happens, knowledge of pertinent info) is assured. Again, sobriety and reason guys. Let's not be bullies ourselves. Yun lang. Salamat. ['That's all. Thank you']"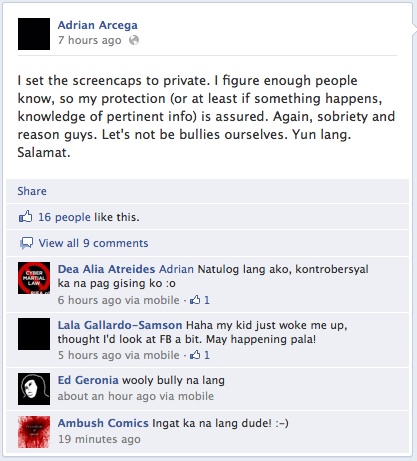 [NB: Above post was publicly-accessible at the time it was captured 11:45am 04 Oct 2012 AEST.]
Senator Sotto has been one of the strongest proponents of inclusion of the libel provisions in RA 10175 and has been accused of sneakily inserting the libel clauses into the bill just before it was subject to the Senate vote (an allegation Sotto denies). Philippine lawmakers have started to cave under pressure from mounting protests among Filipinos and attention attracted from the foreign media over the new law and have started distancing themselves from the imbroglio. President Benigno Simeon "BS" Aquino III himself who had signed the bill into the law has been silent on the matter preferring instead to let his spokespersons release sketchy statements to the public every now and then.
benign0 is the Webmaster of GetRealPhilippines.com.