Appearing to crow about what seems to be a victory of sorts, Project Save 182 lawyer Cheryl Daytec-Yangot posted on Facebook that Sting had moved his concert from the Mall of Asia to the Araneta Coliseum.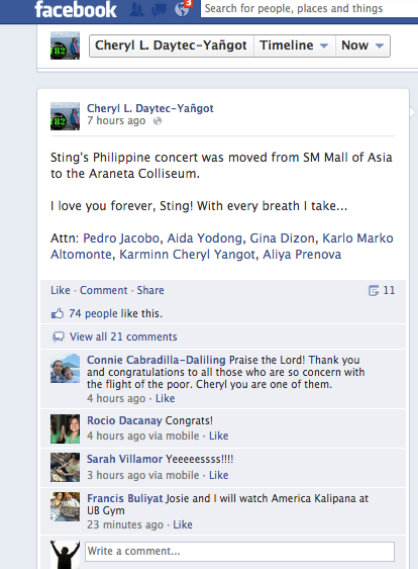 Yangot claims to have written to Sting's representatives and apparently misinformed them that SM had cut the trees that her group were trying to save:
I used to be the lead lawyer in two environmental cases against SM Investment Corporation and SM Prime Holdings-the corporations which own SM Mall of Asia- because of SM's plan to cut down 182 fully grown trees to expand a mall in Baguio City, the summer capital of the Philippines. NUPL continues to litigate the cases. The site of the expansion is the very birthplace of Baguio City and is believed to have been acquired fraudulently by SM. The planned expansion was temporarily stopped after we got a temporary environmental protection order (TEPO) in April 2012 which SM defiled (which was why a spontaneous rally of more than 6000 people was held on April 10, 2012). SM had to obey the court order but not after it cut down more than 40 trees in the dead of night, behind walls to obstruct public view of what was happening while we were holding a vigil, crying and making appeals for the trees and environment. The cases are still being heard. The lead counsel is now Mr Christopher Donaal.
Never mind that Project Save 182's misguided environmentalism overlooks that the biggest killers of trees in Benguet are squatters, real estate developers, and AGRICULTURE. Â Anyone who has gone deep into the heart of Benguet will probably notice ENTIRE MOUNTAINS turned into vegetable farms.
Yes sir! Instead of the Benguet Pine, you'll see mountains planted with broccoli, cauliflower, and all kinds of cabbage.
Never mind, too, that other property developers have also removed dozens of pine trees from its property without so much as a whimper coming from Project Save 182.
Grace Bandoy, a native of Baguio City, has had been campaigning for quite some time now against city officials whom she has branded as corrupt and whom she blames for the destruction of Baguio's beauty.

Lawyer Yangot's letter to Sting leaves out repeated statements by SM where the following has been asserted:
Not a SINGLE tree was cut.
The trees were EARTH-BALLED at night.
SM is planting 7,000 more pine trees in Baguio City alone and 15,000 more in Benguet.
Oh, and Yangot also probably didn't mention that most of the development that SM is doing includes the installation of "green features" which include building a rainwater collection facility which can store 7 million liters and minimize  water run offs that trigger landslides. This is something that most developers in Baguio City have not done but should have been doing for decades.
I would have loved to go to Sting's concert, but after this obvious lack of fact checking just leaves a nasty… er… sting.