The Philippines has a new Supreme Court Chief Justice. Lourdes Sereno was chosen by President Benigno Simeon "BS" Aquino III to be the new head of the judiciary from a shortlist submitted by the Judicial Bar Council (JBC) today. At 52 years old, Sereno is expected to serve in the role for the next 18 years — unless she is impeached. Given the precedent set by the successful impeachment of her predecessor Renato Corona on trumped up charges and on the back of spurious evidence, that is a possibility no longer as farfetched as it once was.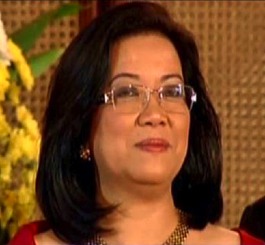 Given the highly politically-charged circumstances of her appointment, it is likely that those who may be plotting to cut her tour of duty short may already be sharpening their pencils. Sereno is BS Aquino's woman for the job after all. She had undertaken actions over the last 18 months in line with what it seems is the primary mission of the Second Aquino Presidency, for one, dissenting in key Supreme Court rulings favourable to Corona during his impeachment trial and, more notably, voting for higher compensation to be awarded to the Cojuangco feudal clan when the Hacienda Luisita is subject to the Comprehensive Agrarian Reform Program.
Thus a Noynoy presidency was apparently deemed critical to ensure that the "right" people were in the Supreme Court over the 2010-2016 presidential term, most likely to ensure that the SC in that period dished out rulings favourable to the presidential Kamaganak Inc which, of course, includes the owners of Hacienda Luisita Inc. (HLI)]. This likely inlcudes keeping the TRO in effect and buying enough time for HLI to get its sorry financial position back in the black.

It's no wonder then that Noynoy threw a monumental fit when he first faced the prospect of a presidency under a Supreme Court led by Arroyo appointee Renato Corona. To Noynoy, Corona represented an absolute roadblock to the whole point — his mission to his family while President of the Philippines.
A successful bid by Serena to implement her position on the matter of the Hacienda Luisita will result in an estimated Php10 billion windfall for the Cojaungco clan. Failure on the part of the Supreme Court enterprise of Aquino's master plan may result in bankruptcy for HLI, possibly dragging down along with it a whole raft of creditor businesses likely to be owned by key taipans within the Aquino-Cojuangco Kamaganak Inc.
Nonetheless, it seems good old-fashioned Filipino criteria had been applied in her selection for the role according to Integrated Bar of the Philippines president Roan Libarios…
Libarios described Sereno as very religious and an advocate for greater transparency in the judiciary. "May takot sa Diyos ["she harbours a fear for God"] and she can withstand pressure," he said.
Looks like Philippine justice is in safe hands then.
benign0 is the Webmaster of GetRealPhilippines.com.