The archdiocese of New York City (NYC) recently implemented a ruling that puts an end to a 26-year tradition of the Filipino community in that city of celebrating their Simbang Gabi pre-Christmas late night masses at the Philippine Center in Fifth Avenue. Last December 2011, NYC Archbishop Timothy Cardinal Dolan had allowed the masses to be celebrated in the Kalayaan Hall of the Philippine Center one more time only because plans had been made and notices already sent out to community members by the time discussions about the future of this practice had started.
Existing Canon Law states that Catholic masses may only be celebrated in a sacred place of worhip — such as a church. Nevertheless, representatives of the Filipino community had reportedly remained hopeful and prayerful that the tradition would eventually be allowed to continue despite this…
[Simbang Gabi committee member Ave Pimo] said both the Consulate and the community will continue "hoping and praying" that Dolan will change his mind with Christmas still five months away.

Manila Archbishop Luis Antonio Tagle, who was in New York on a personal trip in May, reportedly advised the Fil-Am leaders to not give up and continue writing Dolan and the archdiocese to let them know and understand the sentiments of the community.
That the Archbishop of Manila himself would appeal on behalf of a tradition that hardly justifies itself as an exception to Roman Catholic Canon Law is quite notable. Canon 932 of the Vatican's Code of Canon Law stipulates…
SUPPORT INDEPENDENT SOCIAL COMMENTARY!
Subscribe to our Substack community GRP Insider to receive by email our in-depth free weekly newsletter. Opt into a paid subscription and you'll get premium insider briefs and insights from us daily.
Subscribe to our Substack newsletter, GRP Insider!
Learn more
Can. 932 §1. The eucharistic celebration is to be carried out in a sacred place unless in a particular case necessity requires otherwise; in such a case the celebration must be done in a decent place.

§2. The eucharistic sacrifice must be carried out on a dedicated or blessed altar; outside a sacred place a suitable table can be used, always with a cloth and a corporal.
The Canon Law is evidently open to broad interpretation as it does not explicitly state any exclusions or inclusions in the rather sparse guidelines it spells out above. However, CatholicExchange.com provides some sensible guidelines around this law…
The key to interpreting the rule involves necessity. In all of the permitted examples referenced above, there was a real need to offer Mass outside of a Catholic church. If such a Eucharistic celebration were not permitted, the Mass could not take place.

So it logically follows that if a Catholic church is readily available, under normal circumstances it is difficult at best to justify the celebration of Mass elsewhere. Using a private home, when the residents are fully capable of coming to the parish church, or saying Mass in the parish garden, when the crowd could easily fit inside the church building, would not be in accord with either the code or the norms of the GIRM. If Mass can be said in the church, then it should be said in the church!

We see that the Church is realistic about the many difficult situations that Catholics face throughout the world, and is not hesitant to make accommodations so that they can participate in the celebration of the Eucharist insofar as it is possible. At the same time, however, the sacred nature of the Holy Sacrifice of the Mass is to be upheld as much as it can. The Church thus engages in a balancing act, always with the good of the souls of the Catholic faithful in mind. Whenever possible, they should not be deprived of the great privilege of participating in the Mass.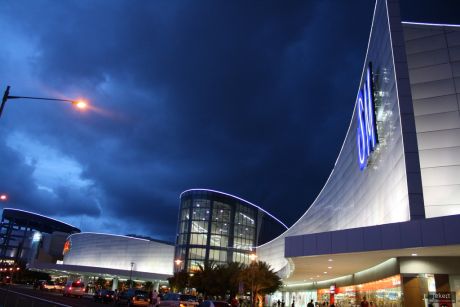 Clearly, exceptions to Canon 932.1 are justifiable under difficult situations. Pity then the average Filipino shopper. It is indeed "difficult" to abide by their sworn duties to their state religion with the glitz and glamour of shopping paradisos beckoning at every traffic clogged street corner of their country's cities. But thanks to the pious hearts of the nation's retail taipans, Filipinos need not worry as Catholic masses are standard omni-convenient services provided by the typical Filipino mall. Indeed, the logic seems pretty sound as far as Filipino logic goes:
Why go to church when our malls got it all?
Indeed, in the Philippines it is more fun because you can shop-and-pray. As can be noted in this year's Holy Week 2012 Mall Hours in Metro Manila shopping mall walk-through masses are pretty well institutionalised in the Philippines. Every major mall in Metro Manila is represented in this quaint schedule.
It makes perfect business sense of course. Going to Church is as much a national pasttime in the Philippines as going to the mall. What better way to build "customer intimacy" (businessspeak for securing a controlling hold on a person's testicles) with the Filipino than by providing a service that commands their pretentious attention on the hallowed floors of their other place of worship?
You can see this strategic genius at work in this mass schedule for a "Thanksgiving Mass and Blessing" published by SM Marikina under, get this, the "Promos and Events" section of their website. You have to read it to believe it…
As a celebration for the completion of the graduating students, a dedicated Holy Mass and Blessing shall be included on the weekly Sunday Masses. A featured icon of St. Thomas Aquinas, Patroness of Students, shall be enthroned at the Altar.
But of course if you were a mall operator, you'd want to offer a "Thanksgiving Mass" to the thousands of students graduating from around nearby schools. People in a mood to celebrate tend to be people who are also in the mood to spend.
benign0 is the Webmaster of GetRealPhilippines.com.