The Philippines has long had an economy propped up by consumption binges that are funded by overseas employment that sucks the substance out of the society from the inside, and outsourced work that turns the country's brightest grads into red-eyed parrots.
It all sounds awfully familiar. And why shouldn't it? The above paragraph may as well have been written last year — or five years ago, ten years ago even.
You then kind of wonder what would make Vanessa Ko sound as if her CNN report was anything that even remotely sound like "news".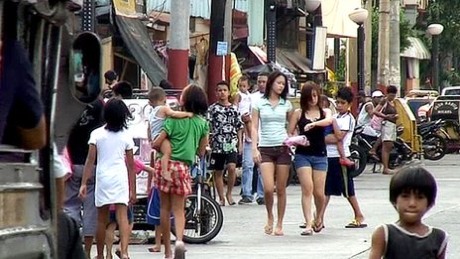 [Photo courtesy BBC News.]
The composition of what "drives" the Philippine economy is hardly something you'd even consider to be an interesting subject of analysis — consumption accounts for "value" contributed to the Philippine economy to the tune of 70% of output according to Credit-Suisse head of research for the Philippines Haj Narvaez. And what fuels that consumption? What else… "It is estimated that 11% of the population of 92 million work overseas. Remittances account for about 10% of the country's GDP, which totaled $225 billion in 2011." Add to that is that other saving grace of the Philippine economy, the call centre and business process outsourcing (BPO) industries that employ thousands of the finest Filipino university graduates; "These jobs are considered well – paid — enough for workers to afford, after several years' employment, down payments on condominiums in Manila's booming property market, Narvaez said."
You don't say.
Given that nothing much has fundamentally changed in what keeps the Philippine economy muddling along, anyone who is looking for something to spin in time for the third State of the Nation Address (SONA) of President Benigno Simeon "BS" Aquino III is likely to find that there really is still nothing to work with. The CNN report evidently struggled in this department. Some of the lame things it cites includes:
(1) The sort of jobs that Filipinos tend to take overseas; "domestic workers, nurses or skilled technicians" which are, supposedly, "types of jobs that are believed to be less vulnerable during an economic slowdown."
"You have an aging population in the West, and you have a young population here in the Philippines that is waiting to do jobs that some people in the West aren't willing to do," Narvaez said.
Indeed, that is quite the source of Pinoy pride that it always has been.
(2) The "well-paid" workers at call centres and BPOs who have contributed to Manila's "booming" property market by being able to afford down payments on condominiums "after several years' employment."
(3) One-time windfalls like a "transfer of operations to the Philippines from Thailand by flood-disrupted businesses."
…all of which serve as but a drumroll to the article's punchline:
Economists also credit President Benigno Aquino for his efforts to push back corruption and undertake infrastructure projects.

"You can see evidence of construction activity in Manila," Teather said. "You can see cranes on the horizon. You can see new roads have been put in place."
But of course. It all makes pretty good sense now.
benign0 is the Webmaster of GetRealPhilippines.com.