I'm no fan of the way Philippine President Benigno Simeon "BS" Aquino III publicly criticised former Vice President Noli de Castro during an event celebrating the 25th anniversary of TV Patrol, the ABS-CBN news program de Castro anchors. But I have to admit that I cannot ignore my own consistent track record of criticising the way news is reported in the Philippines. Noli de Castro's TV Patrol is specifically notable in that it pioneered the shout-out style of news reporting that is now a style standard in Philippine television journalism.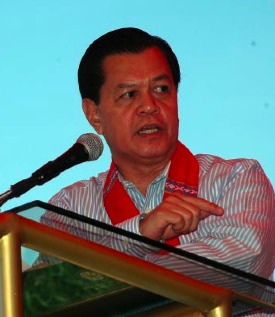 One of the spawn of TV Patrol is ABS-CBN news program Bandila which airs, in full bells-and-whistles regalia, on Australian television. I wrote about Bandila some time ago in my September 2009 article The establishmentisation of the Philippine Media where I highlighted how it symbolised the way television news reporting in the Philippines has been reduced to an embarrassing abomination:
* * * * *
I, for example, am very critical of ABS-CBN on the basis of what I see on their Bandila news program which is aired on a free-to-view channel in Australia, specifically in the way they routinely:
– give disproportionate airtime to hearsay (sabi-ni-ganyan and sabi-ni-ganito) "reporting" and other instances of sloppy journalism that insult their otherwise noble profession;
– give disproportionate airtime to politically-charged stories when there are disasters and other events affecting hundreds or thousands of ordinary Filipinos that are more newsworthy and deserving of broadcast minutes; and,
– broadcast images of uncovered dead bodies demonstrating a lack of respect for privacy and regard for common decency.
On one episode (I think this was in the aftermath of flash flooding in the Bicol region), they even had their field reporters and camera crews shoving their way into a busy emergency room to interview medical personnel.
One also could wonder why Bandila gave so much coverage to the hoo-ha around President Arroyo's $20,000 dinner in New York City with her cronies and is largely silent about the millions of pesos other politicians spend on buying advertising minutes for their "public service" messages — until one realises that these "public services" messages constitute a major revenue stream for ABS-CBN.
There is also something to be said about the gaudy and noisy (lots of sound effects and electric guitars on the background) format of the Bandila news program, which starkly contrasts with the sober and dignified format of the other news programs from other countries that are also aired on the same channel. Bandila is to the broadcast news industry what the jeepney is to the automotive industry.
* * * * *
Then again, on what authority does President BS Aquino III presume to prescribe the manner with which ABS-CBN "report" the news? The irony escapes the President that he and ABS-CBN are the same — reflections of the character of the people who consume their products with great gusto.
On the other hand, one might actually think twice about regarding this Noli de Castro brouhaha as genuine reality TV. Some clues as to the possibly dubious authenticity of this spat between the President and one of the stars of the family media empire lies in a statement on the matter issued by head of ABS-CBN News Ging Reyes…
"It's a good and bad thing actually. It's bad that the President himself made the criticism but it's also good for us because it shows that we are not biased towards this administration as most of our critics claimed in our coverage of the Arroyo arrest and Corona impeachment," said Reyes in a phone interview.
Conspiracy theorists may have something to work with there. Is it possible that this whole Noli versus Noynoy circus was merely staged to get ABS-CBN off the hook on its sorry track record of biased news reporting?
Abangan ang susunod na kabanata.
benign0 is the Webmaster of GetRealPhilippines.com.