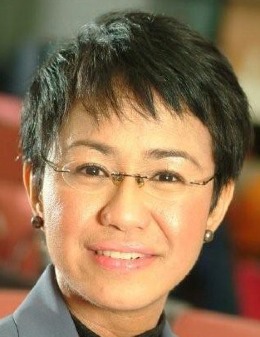 In a speech delivered at the Integrity Initiative Forum co-organized by the Makati Business Club (MBC), the European Chamber of Commerce of the Philippines (ECCP), Management Association of the Philippines (MAP) and the American Chamber of Commerce of the Philippines (Amcham), Maria Ressa, CEO and "thought leader" of self-described 'social news network' Rappler.com emphasized the importance of integrity and 'talking the walk' in the "fight against corruption" that she asserts is on-going today. Ressa insists that "You have to do what's right — not just for your company, but for yourself." She goes on, "It's that simple. And you must make it that simple."
Ressa then goes on to introduce the concept of "evil"…
Because corrupt people don't think they're corrupt. Just like evil people don't think they're evil. How do you get to become corrupt or evil? You take one small step across a line.
…as if anyone can really presume to be an authority on what is or isn't "evil" much less define exactly what "evil" actually is.
One of her ideas, was particularly interesting, because it had to do with the ill-understood concept of "taking responsibility"…
Take responsibility for what you say and what you do. Will you act this way if everyone can see what you're doing? Statements like 'only following orders' or 'everyone else is doing it' abdicates responsibility. Remember, how you behave is completely under your control.
I wonder then how Rappler.com "reporters" Magtanggol de la Cruz and Carmela Fonbuena are living up to Ressa's call for people to take responsibility for their actions in light of the behaviour they had exhibited during the impeachment trial of former Chief Justice Renato Corona.
Section 8 of Republic Act 6426 ("Foreign Currency Deposit Act of the Philippines") states that foreign currency accounts are "absolutely confidential"…
Section 8. Secrecy of foreign currency deposits. All foreign currency deposits authorized under this Act, as amended by PD No. 1035, as well as foreign currency deposits authorized under PD No. 1034, are hereby declared as and considered of an absolutely confidential nature and, except upon the written permission of the depositor, in no instance shall foreign currency deposits be examined, inquired or looked into by any person, government official, bureau or office whether judicial or administrative or legislative, or any other entity whether public or private; Provided, however, That said foreign currency deposits shall be exempt from attachment, garnishment, or any other order or process of any court, legislative body, government agency or any administrative body whatsoever. (As amended by PD No. 1035, and further amended by PD No. 1246, prom. Nov. 21, 1977.)
Yet during Corona's trial, Rappler.com "online reporter" Magtanggol de la Cruz published the balance of one of Corona's foreign currency deposits in an article that bears the ironic title 'Secrecy in foreign currency deposits' dated the 8th of Feb…
The latest one that has grabbed my attention has to do with whether or not a Philippine bank can be compelled via a subpoena to disclose information relating to a foreign currency bank deposit of its depositor, in this case, the Chief Justice of the Supreme Court.

The scuttlebutt, of course, is that Justice Corona has a US$[bleep] deposit held by the Philippine Savings Bank (PSBank) and that the prosecutors even know its account number.
…refering to a previous article dated the 4th of Feb where "online reporter" Carmela Fonbuena reveals not only that dollar amount but the account number where it is deposited as well…
The $[bleep] deposited in account number [bleep] is supposedly just one of 14 accounts that the Chief Justice and his wife Cristina individually and jointly own with daughter Carla Castillo and her husband Constantino III. Prosecution wants the branch manager of PSBank Katipunan branch to appear before the court and bring the bank documents on February 7, Tuesday.
These potential criminal acts by these Rappler.com "journalists" surely reflected badly on the integrity of the Senate impeachment court that administered Corona's trial which, it can be argued, became party to violations of bank secrecy laws when it allowed admission of evidence obtained by unlawful means.
Ressa speaks with some sort of self-administered authority on what it means to "take responsibility". Yet to this day we have not seen any sort of action taken or rectifications made with regard to the behaviour of her so-called "online journalists". So much for "talking the walk". I think it's supposed to be the other way around, Ms Ressa.
benign0 is the Webmaster of GetRealPhilippines.com.