So who should be the next Chief Justice of the Supreme Court of the Philippines? Well, considering that the whole imbroglio and ensuing circus around former top judge Renato Corona started with President Benigno "BS" Aquino's monumental tantrum over the prospect of being sworn into office by a "midnight appointee" back in 2010, it would be the height of irony if the next Chief Justice would turn out to be another tainted by politics.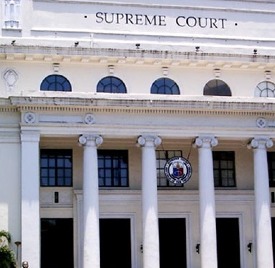 As such to even consider current Department of Justice (DOJ) Secretary Leila De Lima and current Bureau of Internal Revenue (BIR) Commissioner Kim Henares for the job comes across as a bit off. Both of these characters were key figures in the recently-concluded impeachment trial that resulted in the removal of Corona from office.
SUPPORT INDEPENDENT SOCIAL COMMENTARY!
Subscribe to our Substack community GRP Insider to receive by email our in-depth free weekly newsletter. Opt into a paid subscription and you'll get premium insider briefs and insights from us daily.
Subscribe to our Substack newsletter, GRP Insider!
Learn more
Sitting on the witness stand during the trial, De Lima had, in her efforts to prove Corona's partiality towards former President Gloria Arroyo, shown her true colours as a staunch lieutenant of President BS Aquino. De Lima's rather narrow view on what it means to be Chief Justice revealed itself under cross examination there…
It was very uncomfortable to watch a woman of De Lima's calibre reduced to defending her indefensible actions. The simple question asked by Senate President Juan Ponce Enrile on whether or not the Chief Justice acted alone in trying to enforce the TRO [on the DOJ's travel ban on Arroyo] — to which De Lima replied, "The direct answer to that is no" — already reveals her untenable position. The fact that other justices are free to vote "yea" or "nay" is a testament to the freedom accorded them by the Supreme Court as an institution. And for De Lima to insinuate that the other justice's decision can be easily swayed is an insult to the justices themselves as individuals and to the institution itself.
Henares too was just as houndish on the witness stand — behaving very much like the Aquinoist attack dog that she apparently was. During cross-examination, her giddy excitement as she trumpeted the separate initiatives she had mounted to investigate Corona's two daughters, Ma. Carla Corona-Castillo and Ma. Czarina Corona over what she suspected were anomalous ownership of prime properties could hardly be concealed. This was after she exhibited a predisposition while on the witness stand to express her personal views on the Corona family's financial capacity to buy such properties…
Upon cross examination by the leader of the defense team, Serafin Cuevas, Henares appeared too defensive and frustrated by questions that only warranted a simple "yes" or "no" answer. It may have been hard for Henares to respond to the questions if she were aware of the case regarding Corona but it was easy for her to form an opinion about Corona's financial capacity.
Perhaps Henares was thinking that this rather evident loyalty to President BS Aquino and his agenda may give her career aspirations a bit of a boost. And she was probably right. This is the Philippines after all, where personal and partisan affiliations trump all else. Fortunately despite this ingrained cultural predisposition for patronage, the impropriety Henares exhibited that day (too subtle for the Filipino mind to grasp) caught the attention of Senator Joker Arroyo…
This caused Senator Arroyo to feel compelled to tell that BIR commissioner that her move might be over the top:

"Remember the question here is one of policy. We don't want the public to think that the forces of government are being used (in) the impeachment initiated by the House of Representatives and now tossed to the Senate for trial, then another one before the BIR for some tax malfeaseance or whatever. Im not questioning any, but (I'm raising) my concern," Arroyo said.

BIR commissioner Henares might have inadvertedly admitted that her department does not do their job properly. If they did, they would have been routinely on top of what she says are inconsistencies between the income tax and the cost of the real estate properties owned by the Coronas way before the impeachment complaint was even conceived.
The fundamental lesson of the story still stands. Two years of focused executive governance was wasted on a divisive and time-wasting fixation on removing Corona from the office of the Chief Justice. The whole exercise was premised on the notion that a man who owed favours to former President Arroyo is not fit to preside over the Supreme Court. Today as the nation decides who the next Chief Justice should be, it is quite laughable that characters like De Lima and Henares who both stand to carry that same sort of patronage baggage into the service, have emerged as the top candidates being considered for the office.
benign0 is the Webmaster of GetRealPhilippines.com.