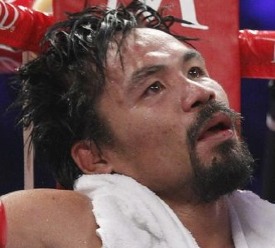 "you lock the door
and throw away the key
there's someone in my head but it's not me."
– Pink Floyd
The problem with our society is we have so much bias that we notice it the same way a fish notices water. It's all around us but we don't think anything of it. Any system will behave based on their values. I have written many many times that Philippine society often prioritizes pansin over logic. I mentioned that in my first GRP post that is that unquenchable thirst for pansin that many in this fair land that somehow made a US born, half Mexican into a 16 year old female Atlas with the whole Philippines on her shoulder. Makes you wonder what being Filipino is all about if someone who was not born or raised here somehow captures the imagination of the people here. It's actually a sign of laziness. We won't put any work in development but we will take credit since part of our watered down blood is in you.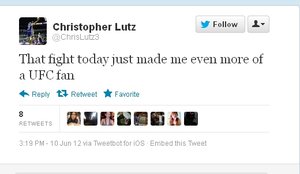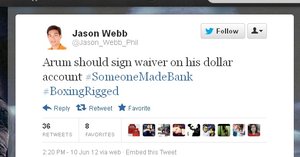 With the results of today's fight many Pinoys are now so quick to disown boxing. Not because anything has really changed within the sport. They want to drop it because they see the writing on the wall. That boxing will no longer be a vehicle for pansin. If there is no Filipino champion to extol the virtues of all Filipinos then let's ditch boxing. Of course there is the usual pinoy blame game. Everything else is at fault except the pinoy. Blame Arum, blame bribery in boxing. Our own Ben Kritz blamed Gloria on Twitter.
Ben was only kidding of course. It's a play on the current occupant of Malacanang to blame his predecessor for everything. As much as I mock B.S. Aquino, he is really perfect for the Philippines. Excelling in the blame game. Just like it is never the fault of the "pinoy" in things that really matter to them like American Idol, Miss Universe and boxing reciprocally BS Aquino is all about taking all the credit and passing all the blame. Ilda gave an explanation to the report that a few of local politicians were seen in a tweet today. I won't speak for her but I noticed this incestuous relationship a long time ago.
If all you did was read pinoy media you would think basketball and boxing are the only sports the USA consumes. The NBA is popular but it is not the year round obsession that the NFL is. The NBA Finals in 2007 could not even beat the Sopranos finale. In fact no one has ever come up with an explanation why we are the only country in the world that prioritizes basketball over all else yet we can not beat the other countries who do not?
Boxing despite their huge payouts to the fighters boxing is far from being the dominant sport in the US. Here is a peek into what all that hype is trying to conceal. In a country where the best tackle football, baseball, basketball and hockey in the world can be found Colin Cowherd compares boxing's popularity to swimming. ESPN's Ryen Russillo in this audio claims boxing's leadership is a joke. The very popular Sports Guy Bill Simmons puts boxing's decline into perspective when he compares the present to his youth. How the demand for boxing is not what it once was. Boxing is nowhere near as popular as it once was. Boxing has pronounced relevance here because the common man sees Manny exports them. Boxing does not reverberate in the rest of the world like it once did but the pinoy will always sacrifice perspective if it gives them the perception of the promise of pansin.
A newspaper is a public trust. It is supposed to be a watchdog and educator. It is supposed to be our window to the world. In my opinion our newspapers here do not serve us: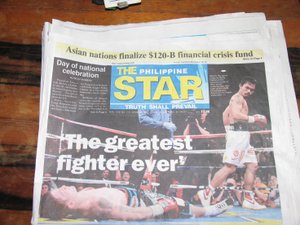 If you believe that boxing is not what it once was in terms of prestige how can Manny Pacquiao be considered the best ever? Opinions belong in the editorial section but this skewed opinion is a headline? Headline stories are supposed to be as factual as possible. I have no idea what this serves except to appeal to the casual buyer's sense of attention seeking.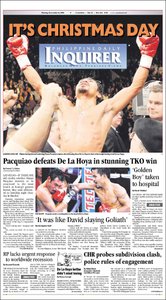 I have no idea why some people think the Philippines let down the Christian faith by having Lady Gaga perform here. The Inquirer put this as a headline and as far as I know I am the only one disturbed by it. A headline in the Inquirer has far more reach across the country than lyrics in a show that some thousands will see. The Inquirer equated a guy in shorts opening a can of whoop a@@ on a Mexican in Vegas to Christmas Day. For some the manifestation of their supreme being on Earth. No one protests that but they will protest a lewd British sitcom for being lewd.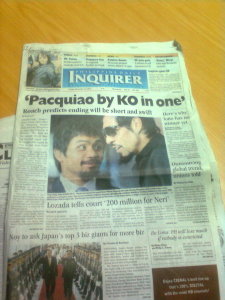 These are all bad headlines in what is supposed to be a "serious" news outlet. In the end they all want to sell by not cultivating your brain cells but by obliterating them. I said earlier that a headline story let alone a headline should be factual. This is an example of a headline that is simply an opinion from a very biased source. The one being quoted was Freddie Roach. He is the best at what he does and a remarkable story. Yet he is part of the Manny Pacquiao organization. There is no objectivity in his opinion nor should there be. You be loyal to your employer. Not sure why though that necessarily makes that opinion front page news. Story is here.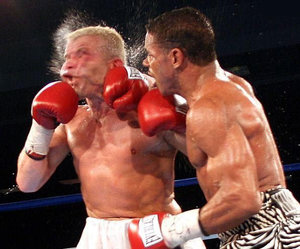 My last boxing example was not a headline but may be the most important thing I will say here. One of the smartest things anyone can do in a risky endeavor is to quit while they are ahead. I doubt enough was made of what happened to Z Gorres to impact on the ordinary Filipino that there is a price to pay for stepping into the ring. My blog predated the Gorres incident by a year. Concussions are a horrible grotesque thing to do to your brain and the object of boxing is to administer them.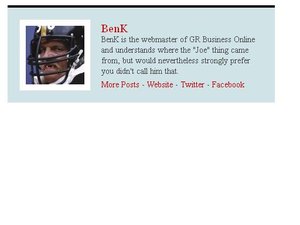 BenK is a pillar of the Get Real community and I already referred to him once already. I can not tell for sure but the avatar he uses appears to be a picture of Mike Webster. Mike Webster in his day was the Manny Pacquiao of offensive lineman. The end for Mike was not pretty. Before we further glorify Manny Pacquiao keep in mind what is being done to him and what he does to others. I am not sure why we all want to latch our national identity to that.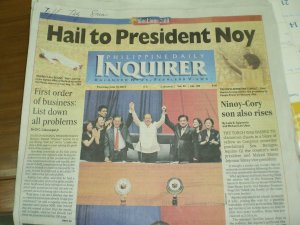 Speaking of brain damage, I present this last headline. This was dated June 10 2010. The story is here. I have no idea why he was being hailed. Notice the boxing style pose. The raising of the arms usually signifies years of training and a reward for either knocking your opponent out or being better than he was after twelve rounds of intense action and both of you are still standing. In BS Aquino's case I can only guess what his arms are raised for.
At the time of the headline and the picture all Noynoy ever did was win elections, insult competitors with better resumes and have the right parents. I thought only brain damaged people would think those qualifications were worthy of a vote for president. We worship Manny and we worship Noynoy. Fitting since both make a living abolishing neurons and glial cells. Even the headlines say so.
[Photo of Manny Pacquiao courtesy Mirror.co.uk.]
Putting a very sharp needle into the balloon known as Pinoy Pride since 2012.