Suddenly it all makes sense to me. Sorry I'm kinda slow when it comes to sports trivia. So Erik Spoelstra, coach of the NBA team Miami Heat is a Filipino-American.
Kaya pala.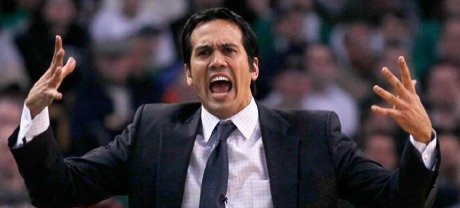 According to a Philippine Star report, Filipinos have been so enthralled by the NBA finals in which Heat is up against Oklahoma City Thunder that the Philippines — a country of 100 million — made it up there ranking third after the United States (pop. 310 million) and China (pop. 1.3 billion) in terms of volume of NBA-related tweets fielded.
Considering the country's smaller population compared to the US and China, it means on a per-capita basis, Filipinos' contribution to online chatter related to the NBA dwarfed all the rest. Based on these figures, each Filipino on the average tweeted three times the number of the US's and thirteen times the number of China's armchair Twitter sportscasters.
Filipinos have certainly been busy lately.
"They root for us," Spoelstra said. "When we're over there during the summer, they are. It's great to see. I had my family over here last night from the Philippines. The one thing about the Philippines is they are rabid basketball fanatics, and it's been that way for a while. They've been following us now for the last couple years, as well."
Rabid indeed. The tall man's game is ingrained in the psyche of a nation of short people. There is a consequence, of course, to this bizarre fixation…
In stark contrast to the meritocratic nature of soccer which does not care much about being born with the genes for height, the fixation that Filipinos have for basketball creates so many shattered dreams. Millions of young Filipinos are raised to love a sport that does not love them back. Many waste inordinate amounts of time practicing the game, wishing that they would be just like Kobe Bryant when they grow up, only to grow to their full height which might be just a few inches taller than Diego Maradona — a height that is just not cut for competitive basketball.

Filipinos even love to watch the NBA play-offs, but even if the Philippines is perhaps the most basketball-crazy country in the World (Americans are more obsessed with American Football and Baseball), countries with much more diversified sporting interests such as Mainland China and the former Yugoslav republics of Serbia, Croatia, etc, who all watch more soccer than they do basketball, have successfully sent players to the NBA. The Philippines has never sent a Filipino to the NBA!
Just the same, I'm not sure if it is because I have only this year been most aware of Twitter goings on, or because the winning coach of this year's finals is of Filipino descent. But, really, tweeting while watching a sport as fast-paced as basketball — where sometimes even blinking just a millisecond too long could mean missing the turning point of a game? Oh well…
benign0 is the Webmaster of GetRealPhilippines.com.