As of the start of this week, Facebook is now trading at 29% below its IPO price. After being priced at $38 per share by its underwriters and floated in the market on the 18th May, the stock performed disappointingly on its first day, rising just a few cents before the market closed. It's been in decline since then, hitting its lowest mark this week.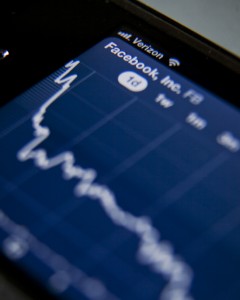 Originally touted as a USD105 billion enterprise just before its ill-fated IPO, Facebook took up the biggest valuation ever enjoyed by an American company in history. Just before the float, The Australian gushed…
Facebook's IPO is a crowning moment for Silicon Valley's latest tech boom. Last year, web companies including LinkedIn, Groupon and Zynga went public in the first sustained drumbeat of internet offerings for years.
Now as Facebook stock slides in the market, the community is not as enthusiastic. As investors burned by the Facebook IPO fiasco consult with their lawyers, other would-be IPO fortune-seekers are now wondering whether their spooked underwriters may start re-thinking what in their cases could also be overly-optimistic assessments of their potential market valuations. The aftermath of the Facebook spiral effectively froze the pipeline of what were once imminent IPOs…
Corsair Components and Tria Beauty, which were both expected to go public before Memorial Day, put their IPO plans on hold indefinitely.

Online firewall provider Palo Alto Networks, risk management software company Reval Holdings, craft retailer Michael's and cloud computing firm ServiceNow were among some of the other highly anticipated IPOs that were expected to launch after Memorial Day. None of the firms were available for immediate comment.
Facebook users are also starting to become a bit less comfy with the notion of having their lives so intricately enmeshed with the social networking titan. Whereas in the past, Facebook was just a benign site where one could connect with friends and reconnect with old long-lost ones as well as share one's favourite digital things, now it is difficult to ignore the reality that Facebook is now a public company with real adult challenges to contend with. One such adult challenge is revenue growth.
And where else does a site who's only real asset is its hold on a massive base of eyeballs get its daily bread? Where else but advertising. Already, Facebook is under pressure to convert its treasure trove of market intelligence built upon data on what its users "Like" into information marketers are willing to pay good money for…
Wall Street is watching closely to see exactly how Facebook plans to use the information offered every day by its more than 900 million users. The company brought in $1 billion in revenue in the first quarter, the vast majority of it from advertising, but it has not disclosed what portion of that is from sponsored stories.
"Sponsored stories" are ad units generated by Facebook on your page whenever a "friend" of yours likes something. The ad displayed shows the product as something "endorsed" by your friend (his or her profile picture and name is displayed in the ad). The thinking there is that one is likelier to consider a product that one of her "friends" had expressed a "liking" for.
The suits have indeed taken up shop at Facebook's executive suites. Hey wait… Facebook does not have executive suites. Maybe not for long.
[Photo courtesy TheWeek.com.]
benign0 is the Webmaster of GetRealPhilippines.com.