Most Filipinos are Third Class citizens in their own country. Consider this: Makati City and its prosperous cousins, Ortigas, Alabang, Greenhills, Fort Bonifacio, and Rockwell among others are world-class reality suspensions. If only we could put all of them in an island and make like another Singapore with the rest of the country treated as its bread, fruit, and cheap labour basket. It is a closer reality than one thinks.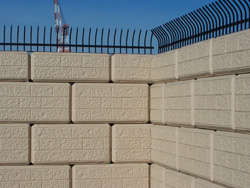 Entering one of the satellite residential enclaves of these capitals of commerce is just about as challenging as securing a visa to visit America. The security outposts of any of these "villages" are the equivalent of consulates and embassies where every visitor is looked on with a presumed intent to make trouble. "Visitor's visas" are granted in the form of passes that are obtained in exchange for a temporary surrender of one's driver's license (which you have a legal right to decline). "Multiple entry visas" are extended for a fee of up to Php1,000 for a year's access privilege (of course on the condition that you are endorsed – call it "petitioned" – by a resident). Even the neighbourhood parish church reserves prime weekend wedding and baptism slots for residents.
SUPPORT INDEPENDENT SOCIAL COMMENTARY!
Subscribe to our Substack community GRP Insider to receive by email our in-depth free weekly newsletter. Opt into a paid subscription and you'll get premium insider briefs and insights from us daily.
Subscribe to our Substack newsletter, GRP Insider!
Learn more
These enclaves are served by their own guest workers that are subject to rigorous security control procedures – body and luggage searches – the works. They levy their own taxes in the form of association dues on their residents; money far better spent than the taxes ordinary Filipinos pay the national government. Public service is first-class: a security force better-equipped, trained, and disciplined than the national police force, grade-A asset management, first-world environmental policy (within the perimeter at least), and community-spirited (among themselves) residents who support and are compliant with the rules and regulations of the association.
Look further out at the "indignation" over the Philippine government's amusing efforts to hide Manila's wretchedly impoverished from the eyes of up to 5,000 dignitaries attending the 45th annual meeting of the Asian Development Bank (ADB) in Manila and the context of fortified gated communities and first-world wannabe promenades for the well-heeled that dot the metropolis puts all that in perspective…
In April, the Philippine government built a fence on the bridge along the highway that runs from the Ninoy Aquino International Airport to the convention center, where the meeting is being held, [Human Rights Watch (HRW)] said.

Draped over the fence are tarps with signs promoting tourism in the Philippines as well as the ADB meeting.

The Aquino government defended its decision to build the fence. The president's press secretary, Ramon Carandang, said that, "Any country will do a little fixing up before a guest comes," according to the Associated Press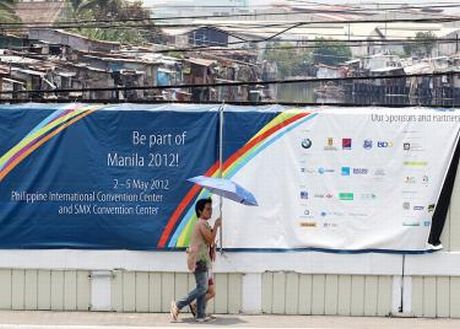 [Photo courtesy Taipei Times.]
According to Metro Manila Development Authority (MMDA) Chairman Francis Tolentino, "We need to show our visitors that Metro Manila is orderly. We owe it to ourselves".
Indeed, the walls put up to whitewash Manila's true character from the ADB dignitaries are temporary — but the fortified walls that surround the residential enclaves of Manila's elite are permanent. A key feature of what Filipinos aspire for is all about striving to make enough money to insulate themselves from the rest of their "less fortunate" compatriots and the squalor they generate. It is only in the poorest subdivisions that you don't you see armed guards manning key entry points.
The approach of creating islands of "modern living" on seas of chaos and underdevelopment taken by the industrial complex of residential land developers and municipal planning teams is very short-sighted. It, for example, created the 'choked main national road' phenomenon that manifests itself in virtually all Metro Manila boroughs from Quirino Highway in Novaliches and Katipunan Road in Quezon City to the Alabang-Zapote Road in Las Pinas and the Aguinaldo Highway in Cavite. Much of the congestion on these roads come from all the cul-de-sac layout type subdivisions feeding into these roads while not maintaining any road links among themselves.
Such is a reflection of a lack of concern for the growth and development of the overall community. The attitude that spurs such development direction seems to be rooted at the residential unit level exemplified by the average Filipino household, obsessed with cleanliness within the premises, but totally oblivious of garbage piling up in the surrounding streets and raw sewage bubbling up from clogged drainpipes.
The banal hypocrisy of Filipino society manifests itself clearly in the moronic rhetoric of the "workers' struggle" of the Philippine "Left" which many Filipinos who, themselves, live in these gated enclaves presume to subscribe to. They enjoin the "socially aware" to exhibit "solidarity" with the poor "masses". Makibaka sa mahihirap na manggagawa! — "Be one with the poor workers!"; never mind that it is quite obvious that the poor have more to learn by making baka with the rich than the rich making baka with the poor. What do the rich have to learn from the poor other than to gross themselves out (before quickly reverting to a more politically-correct "look of concern") upon learning that the poor eat pagpag? In contrast, the poor have much to learn from the rich — specifically the lost art of creating and accumulating wealth.
The sort of fascinating mindsets and behaviours that enclave living creates among the beautiful people of the Philippine Elite came to light in the aftermath of the devastation wrought by Typhoon Ondoy in 2009. I wrote about these observations back then…
There is something amusing in seeing well-heeled folk packing relief bags in makeshift warehouses and loading them onto trucks (again I thank Facebook for that). Many of these are people who come from households where domestic servants may outnumber their employers almost two-to-one. Wouldn't it have been more efficient to simply deploy their servants to those centers to do the manual work while they themselves focus their energies (and core skills) on tasks that deliver bigger, more far-reaching, and longer-term bang (such as getting on the phone to chew out the politicians they routinely fund and hobnob with for neglecting public infrastructure for so long)?

Perhaps all that tacky self-promotion enabled by modern technology hides a more ancient underlying psyche — guilt. Just as feast all year fast for one week is the Filipino motto behind the Easter Holidays ("Holy Week" as Filipinos call it), "helping out" when disaster strikes is what absolves the resource-rich of a way of life characterised primarily by NIMBY-ism ("not in my backyard").

I've fasted/self-flagellated this week.

I've contributed/done "my part" today.

What's the difference between the two? Simple answer: Nothing. They are the same. They both relieve personal guilt over an inability to ingrain doing things properly into our routine way of life. And neither addresses the harder question: What happens next?
So we may huff, puff, and tweet about temporary walls blocking the squalor of Manila's majority residents from beautiful peoples' eyes. Ultimately, however, we simply highlight what a bunch of hypocritical chumps Filipinos really are.
benign0 is the Webmaster of GetRealPhilippines.com.