Money talks — and shuts people up. The challenge issued by embattled Chief Justice Renato Corona to 188 Lower House representatives who were behind the filing of a sloppily-written and practically baseless impeachment complaint against Corona virtually at the behest of Philippine President Benigno Simeon "BS" Aquino III and Senator Franklin Drilon for them to sign a waiver to open their dollar-denominated bank accounts to public scrutiny is resonating across Philippine society.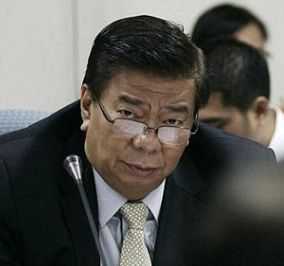 Elements within the camp who have backed the cotinued extra-judicial assault on the privacy and reputation of Corona have latched on to his infamous court "walk-out" yesterday to bolster what had previously become a substance-starved movement to oust the country's top magistrate. The movement, unfortunately for them, remains substance starved despite this minor setback. But to the sorts of minds that subscribe to the Black-and-White world of anti-Corona rhetoric, the word substance may as well be a Swahili word.
Whatever way this circus goes, it seems it is Senator Franklin Drilon who stands to lose the most. Throughout the trial, Drilon hardly even bothered to pretend to be an objective "senator-judge", often taking it upon himself to plug conceptual gaps left gaping by the mediocre lawyering of the prosecution team. As such, his being singled out among the senator-judges by Corona and lumped among the rabble of 188 Lower House "representatives" is not a surprising development.
Drilon had himself been the subject of speculation that he is not above hiding allegedly unexplained personal wealth. A March 2011 Journal.com.ph report revealed that a 1,542 square-metre property in über-expensive Forbes Park Village in Makati City is owned by Drilon's stepdaughter Eduarda S. Genuino, but: "As far as Forbes Park neighbors know, the property belongs to the senator". The report goes on to reveal that the "Forbes Park land is being linked to the Iloilo International Airport Project which Drilon oversaw during the time of President Joseph Estrada". More recently, a bit more detail was provided by The Daily Tribune in a March 2012 report…
Documents earlier provided the Tribune also showed that Aquino's chief Senate ally Sen. Franklin Drilon may have resorted to means to hide the purchase of a property at the country's premiere rich man's village Forbes Park.

Documents showed that in 2004, Eduarda S. Genuino, the single daughter of Mila Serrano Genuino and the late Vic Genuino, employed as an executive at Starbucks of the Tantoco Lopez family, purchased a foreclosed property worth P50 million at 17 Kawayan Road, North Forbes Park, Makati from the Bank of the Philippine Islands represented by senior vice president Senen Matoto.

The original owner of the lot was Amalio Montecillo who is married to a certain Manuel Montecillo. Genuino's widowed mother Milagros married Sen. Franklin Drilon sometime in 2000.

The family resides at 49 Polk St. North Greenhills, San Juan M.M. which is also the residence of Sen. Drilon.

The source of the document asked how can a single lady with no other visible means of income aside from her Starbucks job purchase such an expensive property.
Of course this sort of "reporting" by the Tribune is not too different from the sort of revelations published with glee by "cooperative" reporters on esteemed broadsheets like the Inquirer.net and on "social news networks" such as Rappler.com. But then this is Philippine society where such factoids remain the de facto hard currency for passing judgment on people.
Taste of their own medicine? Not bitter enough, perhaps not quite the "cheaps tricks" that the Black and White Movement had made their new rallying cry, but good media fodder nonetheless.
[Photo courtesy EgYolk.com.]
benign0 is the Webmaster of GetRealPhilippines.com.