Brilliant performance today from Chief Justice Renato Corona. He laid himself out in a manner ordinary Filipinos could relate with. The simplicity of his lifestyle, the straightforward manner with which he accumulated his wealth, and the looking-you-in-the-eye reaffirmation of his lack of any wrongdoing cut straight past the TV screens and struck hard the hearts of the viewing public — ultimately the ones who will guide how the Senator-Judges would decide this case. Corona lived in the same house in Xavierville where he presided over a household not dependent on servants to function. He made his fortune the old-fashioned way; slowly but surely making shrewd investments and practical expenditure. And he highlighted the obvious and long-evident lack of substance of the prosecution case. Political exercise indeed this trial is.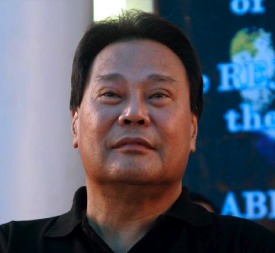 To his credit, Senate court chairman Juan Ponce Enrile paid months of "liberal" tolerance of Niel Tupas Jr's bumbling prosecution team back to Corona to whom he granted enough latitude to make what many assumed would be his last stand. Almost three hours of testimony on Corona's own terms would still have not made up for months of blatant insubstantial and downright flawed allegations and accusations, falsification and misrepresentation of evidence, and malicious black propaganda with the aid of cooperative media people and organisations mounted by the prosecution camp. But Corona used his time on the witness stand wisely nonetheless.
Of course it all went pear-shaped from thereon. Corona, being the Chief Justice of the Supreme Court should have known better than to leave the witness stand without being discharged by the presiding judges. Did he "walk out"? Or did he fall sick? We'll find out for sure tomorrow when and if he returns to face the court and subject himself to cross-examination.
When the smoke from the post-session fireworks display set off by folks fixated on what they have already decided to be a Corona "walk out" clears, we will be left with the challenge Corona issued to the 188 Lower House representatives who lodged the now infamous dud of an impeachment complaint that launched this circus, and Senator-Judge Franklin Drilon. Corona after all was never under any obligation to disclose his dollar-denominated bank accounts. But considering how adamant his accusers were that this was the "right" thing for Corona to do, the ultimate test for such "conviction" on the matter will have been a willingness on the part of these accusers to do the same. As such, Corona's signing a waiver to subject his dollar accounts to scrutiny, invoking the nature of this trial as "political" exercise (as many Noted people insist it is), can rightfully be conditional.
The people also want to know. Perhaps their curiosity — no, their new-found sense of entitlement to the truth about dollar accounts held by all politicians — will more than make up for what admittedly was a bag of brownie points that Corona may have blown by leaving the witness stand without the court's permission. Indeed, how the public decides to weigh in on this will ultimately determine how much of a legal exercise or political exercise this trial really is — and how much of what Corona bared about himself, the family man and his quintessentially Filipino extended family issues, resonates with the personal experience of the average Filipino televiewer.
Nonetheless, Corona owes it to the Filipino people to show up in tomorrow's trial and face his accusers' questions. If his legal team had indeed been providing their services pro bono throughout the trial, then he owes it to them to take serious heed of their legal advise. And from a broader perspective he owes us, those of us who truly believed that the very essence of Philippine democracy — its checks-and-balances, its due process, the integrity of its institutions, and the intelligence of its people — was being damaged, insulted, and gamed by a bloc orchestrated at such vast a scale we've so far seen.
We who had resolved to resist the mind candy of Yellowist rhetoric, bring it to light, and crystalise its true and dark nature using critical minds and level heads and not asked for anything in return, not be motivated by any political agenda, nor presumed to be subject to any tagline of any "camp" or clique or partisan affiliation but instead were united by a common approach to thinking the issues through properly are expecting Corona to be better than he was today. We expect more from him because he is, I believe, better than all of who seek to destroy him today. That a team of lawyers of such rare brilliance would stand by him, and a community of insightful campaigners, writers, and artists would apply the full force of their creative and intellectual energies to produce truly compelling ideas to underpin Corona's position (as opposed to the loud mouths, empty platitudes, meaningless slogans, and quaint stunts contributed by the "other" camp to further their masters' agendas) says enough about which one of the two constitutes the real winning team.
Of course, brilliance and careful thinking will always be an elite albeit minority camp in terms of numbers within any population. And this is why the bigger community of folk who harbour a perverse notion of what "majority" rule makes "right" will never grasp what it means to be right without being popular. This is, after all, a society that is a grand outcome of its long track record of seeing the wrong arguments win.
And by the way, the even more ultimate end of this is that it is really Senator Franklin Drilon who loses whatever way this circus ends.
[Photo courtesy MyPinoy.tv.]
benign0 is the Webmaster of GetRealPhilippines.com.