It starts out with a statement. If you are a nobody, your statement will simply get lost in cyberspace. However, if you are somebody, then an avalanche of reactions will surely follow your statement; some favorable to you but some can cost you to lose your spot in the top ten most influential sports stars in the Forbes rich list.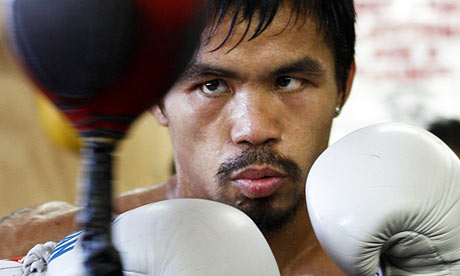 Such was the case with Filipino boxing champion Manny Pacquiao. Apparently, the boxing legend was said to have been misquoted by a blogger for the site Examiner.com in a way that angered the lesbian, gay, bisexual and transsexual (LGBT) community in the United States. The blogger, Granville Ampong overly emphasized Pacquiao's stand on same sex-marriage by adding a verse from the Bible, which suggested that gays must be put to death. Here's an excerpt from his article:
Pacquiao's directive for Obama calls societies to fear God and not to promote sin, inclusive of same-sex marriage and cohabitation, notwithstanding what Leviticus 20:13 has been pointing all along: "If a man lies with a man as one lies with a woman, both of them have done what is detestable. They must be put to death; their blood will be on their own heads."
Reading the above, it is very easy to understand why some would assume that Pacquiao was the one who made the statement. Since the writer, Ampong boasted about having an exclusive interview with Pacquiao, people would naturally think that "death" to gay people is what Pacquiao believes in; unless of course he specifically states that it is not — which is what the boxer did after people from the gay and lesbian community threatened to petition advertisers to drop him as their spokesperson.
Gay Marriage USA has launched an online petition telling Nike to cease its sponsorship of Pacquiao. In its petition page, the group wrote: "Nike is a multi-billion dollar industry and LGBT people contribute billions to this company. It is completely unacceptable that such a high-profile company should be sponsoring a boxer who is encouraging violence towards LGBT people. Tell Nike to drop its sponsorship!"
Same sex marriage is such a hot topic in the US after President Barrack Obama expressed his support. Conservatives and progressive thinkers have been debating it endlessly in the lead up to the US Presidential election in 2013. We all know that pressure from a group of noisy gay people can make a difference to the value of a spokesperson. The New York Times also reported that some of his sponsors are "concerned" about the controversy and taking the matter seriously:
Pacquiao, who has won titles in seven weight classes, has endorsement contracts with several companies — Hewlett-Packard and Hennessy, among others. They conveyed concern over his comments to Top Rank Boxing, which promotes Pacquiao.

Lucia McKelvey, Top Rank's executive vice president for business development and marketing, flew to New York late Wednesday in part to meet with Hennessy representatives about Pacquiao's comments.

McKelvey said Hennessy was "extremely upset" Tuesday because negative comments — which might have been prompted by inaccurate information — flooded the company's Facebook page.
In Pacquiao's denial, it was interesting to note that for someone who is a staunch member and unofficial spokesperson for the Catholic Church, he claimed to have not read the verse from Leviticus at all.
He said Wednesday in a telephone interview that he had not quoted from, nor had ever read, Leviticus.

"I don't agree with, and I'm against, gay marriage," Pacquiao said. "But that's all. I'm not saying I condemn gay people, or gay marriage. I have relatives who are gay. I have friends who are gay.

"All I did was answer a question."
Perhaps in the future, Pacquiao should be more careful about the people he grants "exclusive" interviews. He should actually refrain from talking to bloggers who hold extreme religious views. After all, it's not like his sponsors who put more food on his table are selling religious items. On the contrary, if Pacquiao wants to extend his endorsement deals with the likes of Henessy the liquor giant, I suppose he could drop the saintly image he is trying to project. The Hennessy lifestyle is just not consistent enough with the religious life he wants to lead.
The lesson here is quite simple. If you are somebody who relies on endorsement deals to support your "comfortable" lifestyle, then you may just have to keep your opinions to yourself to avoid being "misquoted".
In life, things are not always what they seem.