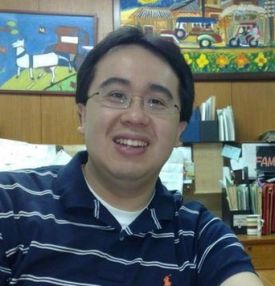 In yet another spectacular showcase of the flat learning curve of all who stand for that quintessentially Filipino oxymoron "civil society", Manila Times "columnist" and Director of the Youth and Social Entrepreneurship Program of the Ateneo School of Government Harvey Keh was grilled to a crisp by various parties in the Senate Court in the impeachment trial of Supreme Court Chief Justice Renato Corona yesterday. Earlier, Keh along with former Akbayan party list representative Risa Hontiveros and another person filed a "complaint" against Corona alleging that the chief magistrate possessed unexplained dollar-denominated bank accounts. The complaint, as it turned out, was based on unreliable sources with Keh, the smallest nobody among the three, ironically making the biggest song-and-dance about information about these accounts obtained from anonymous sources.
Suffice to say, Senate President Juan Ponce Enrile to whose office Keh had directly handed over these unverified documents was not amused. "I felt insulted and offended and I'm ordering you to show cause why you should not be cited for contempt," Enrile told Harvey Keh. Keh was also caught lying about not informing the media in advance of his publicity stunt at Enrile's office. Under questioning by Senator Judge Jinggoy Estrada, Keh admitted that he had been in touch with reporter "friends" from the broadsheet Inquirer.net and the tabloid Abante shortly after he had received the documents.
Apparently not having learned much from the experience, Keh tweeted the following shortly after the ordeal:
I can now proudly say that I survived the berating and admonishment of Sen. Miriam!
This was followed by tweets of support coming from the "civil society" dream team: "Salamat, @harveykeh, my fellow letter-writer & witness! Like u said, Walang iwanan", tweeted by Risa Hontiveros; and, "Kaya natin's Marisa lerias as she leads grace before meals as we regroup w harvey keh: thank u Lord for a wonderful day for kaya natin." tweeted by Isabela Governor Grace Padaca who also later tweeted: "Tuloy lng grace kwawa bayan ntin pag sumuko ang mga ktulad natin,ksama nyo ako mali c harvey na 1000 lng kayò milyonmilyon tayo" (apparently a copy of a text message Padaca received; translated "Keep on going Grace. Pity our country if people like us give up. I am with you. Harvey is wrong that we just number 1,000. There are millions of us").
I wonder if she meant there are millions of us liars…
Speaking of Padaca, Rappler.com had earlier — tweeted by its "CEO" Maria Ressa an hour or two after yesterday's trial session wrapped up — fielded what at the time was a breaking "report" on the sentiments of a tearful Padaca who along with former Pampanga governor Ed Panlilio had accompanied Keh to court.
In an interview after Keh's testimony, Padaca could not help but break down in tears. She said she was angry with how senator-judges berated Keh for accepting and submitting to the Senate Corona's alleged bank records even if he could not attest to their veracity.

Asked why she was crying, Padaca said, "Galit. Parang galit na galit sila sa anonymous. We have a country where ang justice, hindi ka makakalaban nang harapan. Ikaw na nga ang merong gustong ipaglaban, ikaw pa ang masama so what kind of a country do we have?" (Anger. It seems they are so angry with anonymous [sources]. We have a country where you can't fight for justice face to face. You want to fight for truth but you get into trouble so what kind of a country do we have?)
And that is why we have those self-described "heroes" of the hapless Filipino — their Mainstream Media — to whom they can run to. Unfortunately it seems Keh, running around with his pants on fire, suddenly found in him some sense to be a bit embarrassed about getting in touch with his "friends" in this noble industry too soon. You can tell though what sort of priorities a "social news network" like Rappler applies in its reporting practice in the way this teleserye fodder of a report was rushed to press.
You gotta wonder how what on the surface seems to be a glossy, organised, star-studded, and well-funded "civil society" clique can so consistently get it so wrong more often than not. Perhaps it is because the usual suspects in this "community"; people like Harvey Keh, Risa Hontiveros, Maria Ressa, Leah Navarro, Jim Paredes, Raissa Robles, their army of anonymous brown envelope couriers and small ladies, and their vast fan base of starstruck ignoramuses rally around what small minds tend to fixate on: PEOPLE — specifically personalities.
What you are is the sum total of your history, your heritage and culture, your education, the crap that your press sensationalizes, the bad icons that your movies glorify, the artificial values your advertising extols, the bad examples your leaders and role models project. What you feed your country's mind is what it becomes. You have become the ugly monster that you've created. You are now crying all the tears your sickeningly sentimental movies wailed out for years and years!

[…]

You are a nation of star-struck ignoramuses. You are easily awed by your movie stars who are usually nothing but uneducated, aquiline-nosed and light-skinned ******** picked up from some gutter somewhere. I have seen what these artistas illusionadas can get away with. They just flash their capped-tooth smiles and policemen let them get away with traffic violations; they bat their false eyelashes and customs officers impose no duty on their suspicious balikbayan boxes.
Consider that there is no one personality or set of characters nor physical edifice around which the tinier minority of thinking Filipinos rally around. That is because truly great minds rally around IDEAS.
[Photo courtesy PinoyExchange.com.]
benign0 is the Webmaster of GetRealPhilippines.com.