According to "investigative reporter" Raissa Robles in her recent blog article where she puts on exhibit a 2002 interview conducted by an anonymous "reporter" with now Supreme Court Chief Justice Renato Corona which her amiga in her dubious trade Ms Marites Vitug used as "one of the primary sources" in her "book" Shadow of Doubt: Probing the Supreme Court.
By Robles's own account there are three key takeaways from this interview:
(1) Corona is the son of a career official of the Bureau of Internal Revenue, grew up in a single-income household and went to Harvard on full scholarship. Therefore, his parents are not "well off" as he (or his "camp") asserts in response to allegations of ill-gotten wealth.
(2) Corona's "midnight appointment" in 2010 had a precedent in 1998 when he was also by is own admission a "midnight" appointee under the administration of then president Fidel Ramos. Therefore he is a serial midnight appointee (my presumption for lack of a remotely sensible conclusion out of those "facts").
(3) The attorney who notarised the Deed of Sale when Demetrio Vicente purchased his property from Corona's wife Cristina and who, as it turns out, was not a registered notary public was once Corona's colleague in SGV. Therefore "Corona would have [had] personal knowledge that Mantoya was not a registered notary public", and so raises the question "as to why Mantoya was chosen by the Corona couple to notarize the documents and why Renato Corona himself had stood and signed as a "witness" to the notarization".
Beyond the above three, there were other little details revealed in the interview that Robles wisely leaves to her "Cyber Plaza Miranda" mob to quibble over — which, predictably, they do with the gusto of a herd of crazed steer.
Corona was quite candid in his responses to the interviewer. And because they were, in fact, responses to an interview, then it can be presumed that Corona was aware that all of this was on record. Still, the way Robles's readers weighed in, you'd be forgiven if you thought that this interview transcript — a "Raissa Robles exclusive" — was some kind of Ark of the Covenant unearthed by no less than Indiana Jones himself. Suffice to say, I think we've found the new Jolog Central of the second decade of the 21st Century.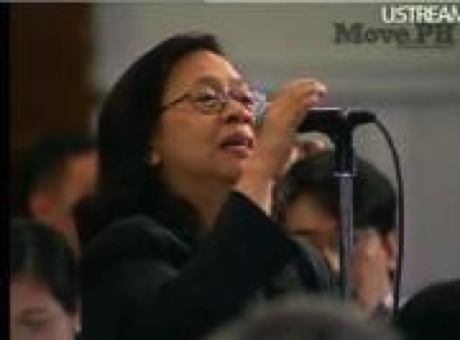 One comment stood out among the cult-like chanting of the mob worth noting which…
I am implying that your [addressing Raissa Robles] readers are very quick to judge. You only published the interview to suggest that the CJ's father is corrupt simply because he was from the BIR. You also presume that his family had no other means. You did not ask him about the things you want to clarify. This is taking the answer out of context. How do we know that by simply reading the answers to the questions? You should have directly asked him about this issue.

It is like you have been rumored to be the girlfriend of a senator. I don't believe this because you appear to be a decent married person.

The internet is a good medium to express an opinion but then in the process we abuse our right to express our opinions. We do not have a license to malign other persons.

I am saying this because a lot of your readers are not lawyers and they make conclusions based on the answers in the interview. Please ask the chief justice to explain his answers in relation to the comments made by the readers.
Consistent to the style of the revered institution of that unique brand of Pinoy "investigative journalism", Raissa Robles once again fails the So What? test. I did mention she was wise enough to throw the defendant into the hands of the Mob a-la Pontius Pilate. The irony here is that this is a practice that is, in fact, the mark of an astute politician. Perhaps Robles is in the wrong line of work considering she is quite good at making a bunch of jolog chumps do the dirty work for her while she polishes her Teflon facade.
benign0 is the Webmaster of GetRealPhilippines.com.