So now we're suddenly protesting the removal of a couple hundred trees from an area of land upon which an expansion of the SM Baguio mall will be built. I wonder, though: Why only now? Last I heard, the destruction of Baguio City had been going on for decades.
Indeed, Filipinos have been destroying Baguio City since it was handed over to their care by its builders — the United States government. When the Americans took possession of the Philippines, Baguio was selected by a party to become the summer capital of the Philippines. In 1903 Filipino, Japanese and Chinese workers were hired to build Kennon Road, the first road directly connecting Baguio with the lowlands of Pangasinan. Before this, the only road to Benguet was Naguilian Road.
The Americans declared Baguio the Summer Capital of the Philippines on July 1, 1903 . Every year during the months of March to June, the entire American government personnel from the Governor-General to the humblest clerk was moved to Baguio to escape Manila's summer heat (abolished in 1913 when Francis B. Harrison took office). The Mansion House was built to become the residence of the American governor-general. The famous American architect Daniel Burnham, one of the earliest successful modern city planners, laid a meticulous plan for the city in 1904. On September 1, 1909 Baguio was declared a chartered city, the second after the city of Manila. They further developed Baguio, building parks and public structures such as Wright Park in honor of Governor General Luke E. Wright, Burnham Park in honor of Baguio city planner Daniel Burnham, Governor Pack Road, and Session Road.
But Baguio resident and Get Real Post writer Midway Haven, however, laments what had become of his beloved city in the hands of the city's inheritors, the Filipino people…
The "Pinoy" mentality, however, has successfully wiped away the legacy of the Americans, turning portions of Burnham Park into endless "tiangges," despite local ordinances that prohibit the existence of such. A "masterplan" has been thought out to rejuvenate Burnham Park, but the project itself is in need of funds. Though skyscrapers have thankfully not yet been put up in the City, the current mayor has still assured moneyed investors that there is no height limit to buildings in Baguio–a potentially dangerous declaration, considering that a number of large geological fault lines worm beneath Baguio, and no amount of "soil testing" could assure the structural integrity of buildings once a disaster hits.
Taken in this context, the "development" activities of the SM Group can be seen from the proper perspective. SM after all is only the most recent of land "development" projects that have progressively displaced the city's treasured vegetation and marred its unique cityscape. A tourist was moved to describe the city today as "a bigcity [sic] slum masquerading as [a] picturesque mountain resort".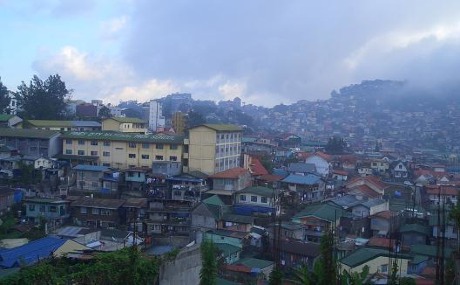 [Photo courtesy Forselles.com.]
Like most Philippine cities, Baguio suffers from that typical blight of a rapidly growing largely unproductive population on infrastructure designed to support one tenth of those numbers. Much of the Philippines' pitch to tourists, in fact, involves places that are untouched by Filipino hands, and much of the Philippines that bear the signature mark of Filipino management are embarrassments largely glossed over by Philippine tourism guides.
Activists are now calling for a "boycott" of SM Malls to protest this latest instance of what has been a long rape of Baguio City. But how does one go up against what is virtually a vast institution of low-cost retailing in a country addicted to cheap trinkets imported from China? Indeed, following a precedent set by Malacañang, SM flexed its corporate muscle when it defied an order issued by a Baguio court to temporarily desist from any further tree removal work…
Bishop Carlito Cenzon said a boycott was one way to show how SM City Baguio had insulted the people and the authorities by defying court orders.

"They've already showed their hardened hearts [by defying the law] so the boycott must already begin. Do not patronize them. Stay away from them," Cenzon told reporters in a phone-patch interview Wednesday.

"We are appealing to [SM] not to proceed with the expansion anymore and stop harming our trees. It's really a serious matter if they will destroy our oxygen tank," he added.

The bishop said he was not sure whether other SM malls in the country have acted the same way "but if they also have this kind of policy, I advise the people to really think about it. Why do we continue to patronize a monster?"
This "monster", Mr Bishop, is a deeply-ingrained part of Filipino life. Good luck with that. Like many things that are now coming back to bite Filipinos, the SM chain of malls has long profited immensely from a customer base and labour pool of rapidly-multiplying people. The retail industry in the Philippines is fueled largely by dollars remitted by overseas Filipino workers (OFWs) to their large families remaining in the islands. The vast sea of impoverished Filipinos also ensures SM a continuous supply of cheap labour to man its stores — the same immense numbers that is also making its expansion in Baguio City a must-do at all costs.
And a big cost it is as many of our slacktivists are now coming to understand. Then again, maybe they don't understand. Protesting SM's tree-killing expansion in Baguio City is a pointless exercise — because the SM we would like to regard as a "monster" is one created by the Filipino people themselves, not too different from the other monsters that now stymie any of our hare-brained efforts to achieve "progress": the embarrassing size of our population, our imprisonment to reliance on non-renewable sources of the national product (consumption, foreign employment, and extraction), and the chronically stalemated politics further aggravated by the rise to power of a vindictive Chief Executive.
There are many worthwhile things to protest. The fate of 182 trees being "sacrificed" at the altar of the sort of consumption that has come to define the Filipino is not one of them. It is an issue that merely highlights the oxymoronism of Philippine activism.
[NB: Parts of this article were lifted off Wikipedia.org and used in accordance with that site's Creative Commons Attribution-ShareAlike License consistent with the same license applied by Get Real Post to its content.]
benign0 is the Webmaster of GetRealPhilippines.com.