According to a Spot.ph report, a photo of a woman in "skimpy shorts" posted on PinoyExchange.com (PEx) went "viral". Presumably this is because of what can be construed to be the offensive nature of said woman's pose.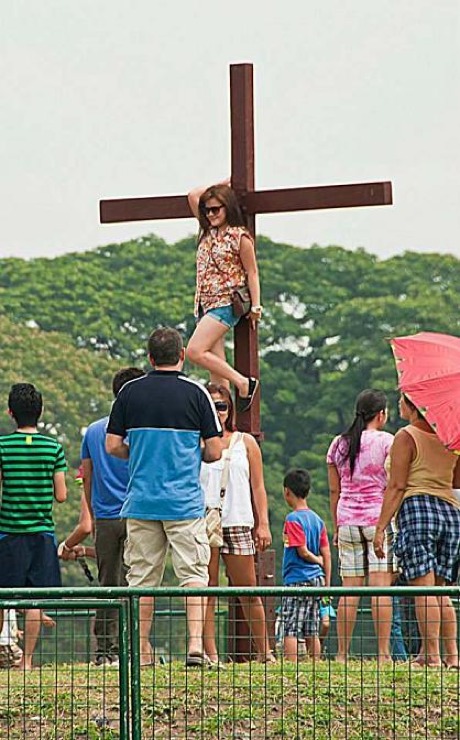 I noted, however, that the cited shorts did not really come up to scratch as far as my personal standards of skimpiness…
As expected, the image drew expressions of "indignation" from the crowd. But one voice of reason stood out amongst the commentary that ensued…
It's just an execution tool for crying out loud. Many criminals in that time were executed crucifixion style. I won't consider it as sacred at all. What if crucifixions were not invented yet? What if people were executed with a rope hanging on a tree during that time? Would you even consider it as a symbol of hope?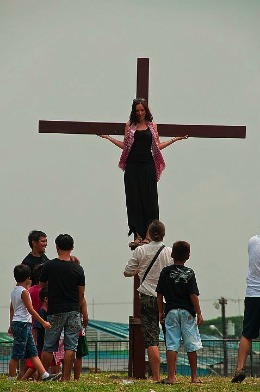 Interestingly, the Philippines is renowned for its tradition of penitents performing actual self-inflicted crucifixions during the Easter season.
The location of the scene of the above photo and the people involved remained unidentified. But one other notable feature of the cross where the lady posed is that it seems to have been one that was easily mounted as this other photo from the same PEx thread shows a bit more clearly.
Why would a cross be standing in the middle of nowhere equipped with a platform at its base that would attract such otherwise benign antics? As another commentator observed…
Obviously, who sets up a cross with a ladder or a step? Probably by someone who wants to make it a tourist spot where people can pretend being crucified and have their pictures taken.
One thing's for sure, these stunts are not the least bit original. Pop star Madonna beat them to it back in 2006.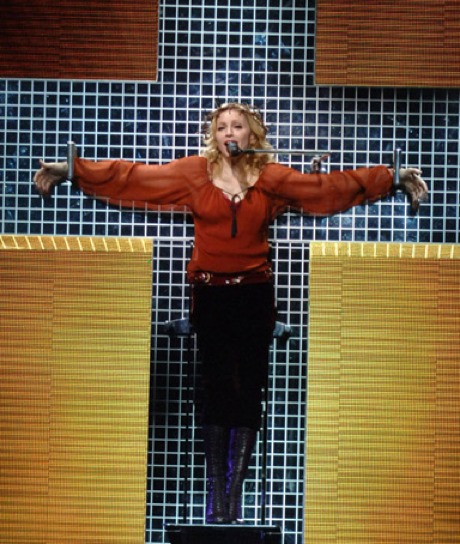 Madonna was said to have been quoted as saying that "Crucifixes are sexy because there is a naked man on them."
benign0 is the Webmaster of GetRealPhilippines.com.