The Lenten season is upon us, and it is time to reflect on the deep fundamentals that define our aspirations to be "good" Christians. Part of those fundamentals are principles ingrained in us since youth by an institution that presumes to speak on behalf of God and provide "moral leadership" to his "flock". But there is a simple question on the assertion that the Church provides credible moral leadership that we seem to sheepishly skirt:
Where is this "credibility" derived from?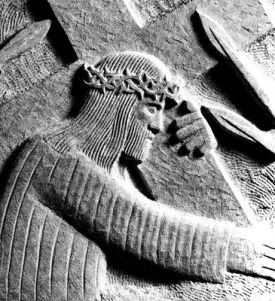 Jesus Christ may have provided the groundbreaking conceptual foundations for the unprecedented ethical soundness of Western civilisation today (relatively, that is). And even to be fair to those who attribute the dubious property of "divinity" to this great man the advent of Christianity heralded in a replacement of the schizophrenic God described in the Old Testament with the concept of a "loving" and "fatherly" God to worship in our time.
As to Christ's claim of being the Son of God, well, we have to rely on Scripture, that true-by-edict body of "knowledge" which survived centuries of "moral ascendancy" and unquestioned beholdnness from its own scholars and believers with hardly a whimper of scrutiny from any objective third party (under fear of genocidal attacks from the Church's Forces of Righteousness). For all we know, the last 2000-odd years of the dominance of Scripture may have been nothing more than an exercise of systematically putting words in a great man's mouth on a massive scale.
I therefore do agree that even removing the glue of "divinity" that for centuries has commanded fearful and in many cases insane obedience from most Christians; specifically the fear of the "fires of hell", which in essence are rather dubious threats against what you shall experience after death (remember: nothing in life everything in death…); Christianity remains as Jurgen Habermas asserted, the foundation of the major civilising force of our time — European culture (let's not forget who's invention "democracy" really is, folks).
The Man JC's key contribution to our lot are his ideas and his example. The Church as an "institution" in all ironies has actually devalued him as a man (as one of us) by attributing to him a "divinity" that remains debatable to this day.
The value of Jesus Christ's objective and tangible contribution to humanity was severely diluted by a humungous layer of convoluted dogma and mystic jibberish that is administered by that embodiment of conflicts-of-interest that is the Catholic Church.
Whereas men such as Albert Einstein and Plato stand timelessly on the robustness of their own personal achievement, Jesus Christ was deprived of his chance to stand among them upon the same sort of footing by a Church that presumed to enforce reverence for him through the sword and through the use of principles of clever marketing. Thus Christ will be known not as the man and not for his mind but as a mere iconic centre of an "institution" that today is rapidly making itself irrelevant and pulling down the great man with it.
Happy Easter Holidays and remember to use more brain and less of the shrinkwrapped recycled thinking that dominates our sad society.
benign0 is the Webmaster of GetRealPhilippines.com.