Mini-marathons or Fun Runs for a cause have become the "in" thing in the Philippines nowadays. Like most things that become fashionable to the more fortunate of Filipino crowds, the concept behind the activity tends to get lost in its participants.
Take the case of this NATGEO EARTH DAY RUN recently held in Manila. A participant took a photo of the day's event, which showed runners throwing what seems to be either plastic or paper cups on the street. I mean, hello?! The activity was supposed to be drawing awareness to the state of the environment but the runners simply toss the cups conveniently as they make their way to the finish line.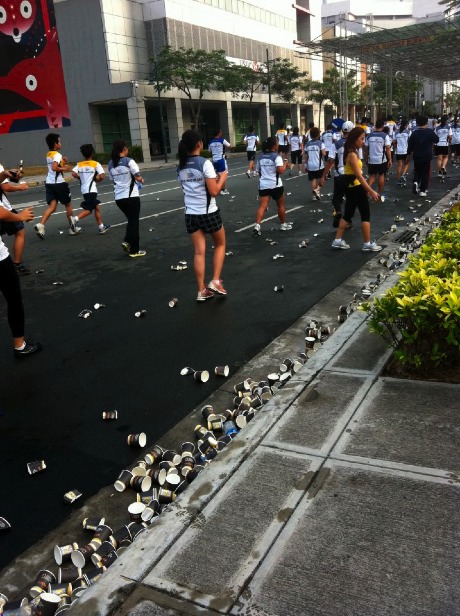 The photo was posted on Facebook by a certain Francis Xavier Pasion along with the following write-up:
WHY DO WE RUN?

Early this morning, I ran my first marathon. It is dubbed as the NATGEO EARTH DAY RUN. I ran for 3 reasons: 1. I liked the shirt (i would have settled for the 3k, but I liked the 5k gray shirt so i would not mind running an additional 3k); 2. I had no taping yesterday; 3. I wanna lose some calories. I did not run to save the earth. That was clear. I was just wondering why the others ran? I was so amused to see most runners scatter their used paper cups and bottled waters on the street. Oh, Mother Earth would be very proud of them…and the organizers. I hope the organizers did not place plastic bottled waters or paper cups in the various stops of the race. I hope they reiterated upon registration that the runner must bring his/her own container and that water fonts will be stationed instead. That could have saved them some money, and yes, some trees. Next time, let us be clear about our intentions in initiating these events. I may have ran for the wrong reasons, but I certainly did not throw away that paper cup on the street. Happy Earth Day Everyone, whatever that means to you.
It could be a classic case of jumping on the bandwagon without understanding why they are doing what they are doing or majority of Filipinos simply act on the bases of herd mentalities. Whatever the case, it is obvious that these latte-sipping runners did not use their heads.
Let's just hope that the next fashionable thing will be for a smart organizer to gather people for a "Fun Clean Up" of the streets day instead of a "Fun Run". Maybe, just maybe, the whole point of the activity will not be lost in its participants yet again.
In life, things are not always what they seem.