Recently, a renowned financial expert in the United States, Suze Orman, was in town for a series of talks about personal finance. Bank of the Philippine Islands (BPI) brought her over as part of their financial wellness advocacy. Naturally, one of the things she focused, and expressed concerns about, is the Filipino attitude towards money.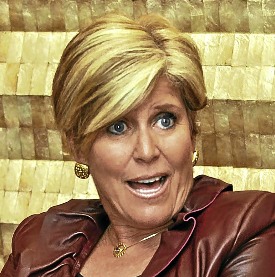 Ms. Orman has her own talk show on CNBC America on weekends, where she mostly answers inquiries from callers on whether they are able to finance things they want to buy. To read more about her, click on these two links.
I have mixed views regarding the overseas Filipino worker (OFW). On one hand, there is nothing easy about having to leave your family for greener pastures abroad, in order to support those who are left behind in the motherland. That many have to leave behind what is considered a high-paying job here for a back-breaking job in unbearable conditions elsewhere, is simply sad. I, who have not yet experienced working abroad, cannot honestly say that I understand their pain. Nevertheless, I take my hat off to them. On the other hand, I wish they did not have to do what they do. That they are the result of a government who cannot provide jobs locally to support as many Filipinos as possible is simply appalling. That what becomes of their hard work and back-breaking labor, is squandered more often than not by their countrymen left here, is downright disgusting.
Before we go any further, one might ask: what is the link between OFW's and the Filipino attitude to money? The answer is simple. The OFW remittances represent a significant portion of the money that keeps the Philippine economy afloat. In this article, Ms. Orman highlights a story of one of her employees who says that she is thinking about stopping the yearly visits to her hometown. Apparently, what all the employee's relatives seem to care about is money. Thus, this begs the following questions:
1.What exactly are the relatives doing with the money they get?
2. What are their plans should their relative stop sending money?
3. What are they thinking if they assume that they can depend on their OFW relative indefinitely?
Although this family is just one among many in the Philippines, the questions above can be posted to just about everyone. Substitute OFW for any other able-bodied relative, and there you go. In addition, it does not always have to be about what your relatives are doing with your money, but what you yourself are doing with it.
The Philippine Inquirer has several articles on comments Ms. Orman made during her visit. The list follows below. This makes one wonder though, why the PDI has more articles than the other publications.
1. Helping people who can take care of themselves is not helping the Philippines
2. Parents should never tell a child they hate having to leave home because they have to work.
3. Philippines to shine in global community soon
In essence, Ms. Orman is not really saying anything that we do not already know. However, how many more people like her do we need telling us that the way we look at, and handle money as a people, is not sustainable? In my opinion, this is the line that drives it home: "Helping people who can take care of themselves is not helping the Philippines"
The OFW remittances, as a source of money for the Philippine economy, is in peril, all the more so now because of the unstable political situation in the Middle East. What will happen if we need to recall all our OFW's stationed in that region? What would happen if all foreign governments would stop accepting our OFW's, for one reason or another? The economy would, for lack of a better word, crash.
People may remember the prediction HSBC made about the Philippines in January 2012, where it was said that we could leapfrog to be the largest economy by 2050. It is not hard to imagine that this piece of news sent many people jumping for joy and exclaiming "Proud to be Filipino!", or what have you. The way things are currently going, it looks like this prediction will remain just that – a prediction. However, an-out-of-the-box thinker would ask "why wait for 2050? We can start the road to a bigger, better economy now!"
Unless we start changing our financial ways now, we are only setting up ourselves for disappointment yet again. I dare say that it is not a stretch to imagine that by 2050 people will still be waiting for dole-outs, whether from the government or from their relatives. This is the financial equivalent of waiting for the guava to fall from the tree!
If we want to be able to manage our money better, and to start moving away from relying on dole-outs, which the OFW's remittances are the best example of, we've got to start with ourselves, and now. I understand the feeling that paychecks are rather transient. I experience that every single pay period, because I am also part of the work force. What I do not understand is putting oneself in debt, just to satisfy a transient feeling of happiness. What I do not understand is throwing away money needlessly for the vacuous notion of "pakikisama". What I do not understand is the balato mentality, as one commenter had put it, that other people feel when they see others with money they themselves don't have. Through personal experience, I have become wary of the phrase "share your blessings". Most importantly, what I do not understand is the aversion to work that certain Filipinos have. Instead, they rely on, and think they are entitled to, being supported by their relatives who are serious about working, yet who are hesitant to voice their displeasure.
Do not get me wrong, money is not the single definitive way to define happiness. However, once we have more of it, we are in a better position to make ourselves happier, and our life better off. Next is the hard part: redefining how we think about happiness, and being serious about it. For more on happiness and why we need to be serious about it, let Ilda explain here.
That being said, our government has its own part to play too. How can they help? For one, relaxing or downright removing barriers to foreign companies setting up shop here is a start. If they stopped coddling the oligarchs, who insist on monopolies, that would be even better. I am sure that you, the readers, have even more suggestions as to how the government can help provide enough jobs for its own people, and thus put more money in their hands. I leave it as an exercise.
We should not have to be reminded that as citizens, it is our responsibility, no, our duty, to make sure that they do it right, and that they keep doing it that way.
Paging President Aquino, as soon as you are done micro-managing the impeachment trial, and putting your foot in your mouth, get up. The economy needs you. It has needed you ever since the start of your term!
А вы, друзья, как ни садитесь, все в музыканты не годитесь. – But you, my friends, however you sit, not all as musicians fit.