It's just as well that starlet Anne Curtis went into a self-imposed "retirement" from singing even after scoring a successful concert tour billed "AnneBisyosa" (a play on the word ambisyosa which means "ambitious"). According to Curtis, she found the whole "singer-performer lifestyle" quite tiring, saying "If they were to ask me [to record an "AnneBisyosa" album], parang hindi ko na kaya, nakaka-pagod siya. Sabi nila, o isang album, [sabi ko] 'ayoko na po'."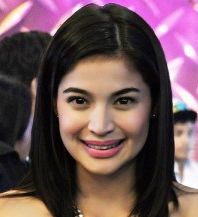 According to some reports, Curtis's concert was more of a spectacle of eye candy than a showcase of real musical talent. Bottomline of course is that it sold tickets and continues to be a marketable proposition as evident in producers' continued interest in the self-confessed "non-singer". The Australian-born actress was originally better known for her looks than her voice and the title of her concert alludes to the boldness with which she conquered the music scene. The term ambisyosa is familiar to most Filipinos as a word of discouragement in the vernacular and is often used to describe someone seen to be pursuing an endeavour judged to be beyond that person's capabilities.
In that context, Curtis's choice of name for her concert is sort of a self-deprecating gesture — a kind of an under-promise to the audience, perhaps to prime them to be a bit less critical of Curtis's singing faculties.
Filipinos are of course not only very accepting of under-promises, they are also famously tolerant of under-delivery (even non-delivery in many cases). As we know now however, AnneBisyosa did not disappoint its bankrollers. Its ticket sales reportedly eclipsed concerts of "more seasoned" musicians Sharon Cuneta and Martin Nievera, prompting businesswoman Liza Valbuena to observe…
"This seems to indicate that concertgoers these days prefer novelty over musicality—which is a pity, because Sharon and Martin worked hard to come up with what they dubbed as a 'once-in-a-lifetime' show."
Filipinos' taste for mediocre singing and performing has long been noted as many popular variety shows have, for decades, regularly featured line-ups of the latest network recruits doing song and dance numbers despite these "artists" being visibly self-conscious of their own lack of talent while they perform.
Interestingly, the primary mode of public transport of Filipinos continues to be the jeepney — a vehicle originally constructed from surplus United States army jeeps. Perhaps Curtis in turning AnneBisyosa into a runaway success continues the renowned Filipino tradition of turning something ill-designed for a particular function into an enduring solution that delivers a level of functionality that suits the Filipino's renowned pwede na yan standards.
benign0 is the Webmaster of GetRealPhilippines.com.