How does one prove allegations that Chief Justice Renato Corona betrayed the public trust through his partiality to former President Gloria M Arroyo (GMA)? As what most rational people had for so long expected, it is indeed proving to be difficult. Even Department of Justice (DOJ) Secretary Leila De Lima failed to prove it in her testimony as the prosecution's first witness for Article VII during the impeachment trial of the Chief Justice.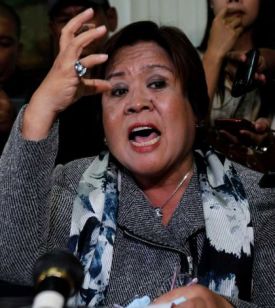 In Secretary De Lima's efforts to prove that Chief Justice Corona granted favors to GMA, she inadvertently proved her own partiality towards the incumbent President, Noynoy Aquino (PNoy). It is no secret that it is PNoy's great desire to get rid of Chief Justice Corona at all cost, and as a dutiful staff member it seems like Secretary De Lima had to do everything to please PNoy even to the point of defying the Supreme Court (SC).
When asked by lead defense counsel Serafin Cuevas if the executive branch has any authority to review decisions or orders made by the Supreme Court, De Lima replied "There is no such power." But the records show that as the head of the DOJ, she took it upon herself to defy the temporary restraining order (TRO) issued by the SC against the watch list order (WLO) on GMA, presumably upon the orders of PNoy. Therefore, she went beyond her capacity and authority in violating the decisions of majority of the justices.
Secretary De Lima's testimony was very questionable. It had more holes than a slice of Swiss cheese. Her statements were mostly based on hearsays and her personal opinions. Her testimony at some point was even funny because she relied heavily on the dissenting opinion of associate judge Maria Lourdes Sereno — meaning, she naturally gravitated to the opinion of someone who pretty much agreed with her views. And because she was not involved in the voting process, she could only speculate on why the majority voted to grant the TRO to its petitioners.
To those who were watching the trial, it was obvious that De Lima also found it hard to answer the question on whether she thought there was a conspiracy to allow GMA to leave the country. Her long pauses and long-winded responses said a lot about her attempts at justifying her defiance of the orders of the Supreme Court. It took a while but De Lima had to reluctantly admit that she thought that the seven other justices conspired with the Chief Justice in coming out with a decision to issue a TRO on the travel ban on GMA. "If the question is demanding a categorical answer on my part, there was conspiracy because they issued the questionable TRO (temporary restraining order)." She was indeed stuck between a rock and a hard place because if she denied that she thought the judges conspired to help GMA, then it would be inconsistent with what the articles of impeachment are implying.
De Lima had a tendency to hypothesize in her testimonies a lot. Having not been a Chief Justice herself, she appeared clueless as to the real functions of Chief Justice Corona. While she acknowledged that Chief Justice Corona's vote is only one vote when it comes to decisions, she added that "there are other functions and duties and powers of the Chief Justice as primus inter pares (the first among equals)". But then she wasn't and couldn't be specific about what those other functions and duties and powers were. Therefore, she was merely imagining what he could have done to make the other judges grant the TRO.
It was very uncomfortable to watch a woman of De Lima's calibre reduced to defending her indefensible actions. The simple question asked by Senate President Juan Ponce Enrile on whether or not the Chief Justice acted alone in trying to enforce the TRO — to which De Lima replied, "The direct answer to that is no" — already reveals her untenable position. The fact that other justices are free to vote "yea" or "nay" is a testament to the freedom accorded them by the Supreme Court as an institution. And for De Lima to insinuate that the other justice's decision can be easily swayed is an insult to the justices themselves as individuals and to the institution itself.
De Lima also alleges that Chief Justice Renato Corona wanted to let GMA "leave the country in November despite her facing charges of electoral sabotage." Her statement was inconsistent with how things truly transpired. We recall that GMA and former first Gentleman Jose Miquel Arroyo's first attempt to leave was on the 15th of November 2011 and at that time, there were no charges filed against her. It was on this basis that the Supreme Court issued the TRO citing that their decision was ""¦consistent with the constitutional provision on the presumption of innocence" because the Arroyos are not yet accused.
It was former Aquino ally and economist, Solita Collas-Monsod who was among the first to find this series of events rushed and "disturbing":
On Oct. 21, 2011, according to De Lima, the fact-finding team was to have submitted their report, forwarding it to the joint preliminary investigation committee. I was unable to secure a copy of the fact-finding team's report, but from the news reports, it seemed to me that everything was hearsay, until Oct. 11, when former Maguindanao Gov. Andal Ampatuan Sr.'s chief aide, Norie Unas, revealed that he had overheard Arroyo ordering Ampatuan to deliver a 12-0 vote for the administration candidates in 2007. That was the only eyewitness account (and Ampatuan has just called Unas a liar and denied that the conversation took place).

On Nov. 14, or five days ago, the joint preliminary investigation committee completed its investigation.

On Nov. 16, per the Comelec chair, he received a copy of the report of the Comelec lawyers involved in the investigation, and its recommendations. Note: Only two days elapsed between the time of completion of the investigation and the recommendations.

On Nov. 17, the Comelec en banc voted to file charges against Arroyo, with two commissioners refusing to sign because they had not read the report. Does that sound rushed or not?
It is crystal clear that Secretary De Lima is getting her timeline mixed up. The charges against GMA were filed on the 17th of November 2011 after the issuance of a TRO on her travel ban. But in her inconsistent testimony, De Lima was making it look like the issuance of the TRO was quite suspect. Unfortunately for De Lima, the records show otherwise.
In relying too much on her gut feeling, Secretary De Lima shows even she can be partial to her own bias. At least the members of Supreme Court can vote based on their own so-called "biases" but have to accept the majority's decision whether it is favourable to them or not. Meanwhile, De Lima acted as directed by her superior but will ultimately be answerable to the Supreme Court for defying their rulings on her own.
In life, things are not always what they seem.