According to presidential adviser on political affairs Ronald Llamas, he is sorry for being an enthusiastic patron of pirated (illegally copied and distributed) DVDs because he is "no longer a regular guy". I wonder then what this says about the typical regular Filipino guy? I have many times in the past asserted that Filipino government officials for all their being made out to be the source of all that plague the chronically impoverished country are, to be fair, mere reflections of the society they rule over. In that sense Llamas is right. His actions reflect what would have been expected of regular Filipinos. But he is, excuse us, a top-ranking government official.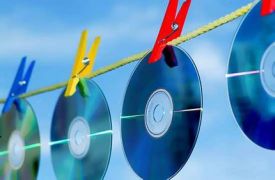 Llamas was reportedly caught on video "casually buying almost P2,000 worth of pirated DVDs" at (according to him) "Circle C mall on Congressional Avenue". Fortunately for Llamas — a close friend and shooting buddy of Philippine President Benigno "Noynoy" Aquino III — Philippine Laws are quite flaccid when it comes to distribution and possession of illegal copies of intellectual property. Republic Act 10088, known as the "Anti-Camcording Act of 2010" only covers possession and use of audio-visual recording devices in Philippine theatres.
There so far seems to be no national laws covering the sale, distribution, and possession of the products of the illegal activities covered by R.A. 10088 — such as pirated DVDs. Whatever regulations in place that cover distribution of pirated content are made up primarily of various local ordinances in force in one municipality or the other. In the Quiapo district of Manila, for example, a "total ban on pirated DVDs" is supposedly in effect. According to Optical Media Board (OMB) Secretary Dennis Pinlac, however, Quiapo is merely "a test center" from which, it is presumably hoped "a domino effect" will emanate to "other areas".
Indeed, despite R.A. 10088 representing the nation's most concrete law against film piracy, camcorders in theatres apparently represent but a tiny component of the overall source of pirated DVDs in the Philippines. OMB Chairman Ronnie Ricketts cited China as "the biggest producer of pirated DVDs". Illegal Chinese DVDs are, according to Ricketts, shipped to the Philippines "via the country's backdoor, Zamboanga".
Perhaps then, Llamas is right. He needs to shape up as he is expected to be better than the average Filipino who, for his part, is so rat-poor that he should be excused for partaking in what is actually an ample supply of bootlegged DVDs in the country. It can even be argued (using the perverted logic of those who embrace the Filipino's renowned Philosophy of the Victimised) that the ordinary Filipino may be entitled to this abundant contraband. As a matter of fact, it seems that it is precisely that sort of thinking that Llamas and his apologists now use to rationalise their way out of this presidential scandal…
"Pirated goods will attract ordinary people when the originals are excessively priced," [former University of the Philippines president Francisco] Nemenzo said in a press statement.

Nemenzo said he had been a close friend of Llamas for the past 30 years and that he knew him to be "an assiduous bargain hunter who shuns expensive department stores and boutiques."

He recalled that during a conference he and Llamas attended in Europe a few years ago, the latter "dragged (Nemenzo) to a flea market where they searched for treasures in piles of rubbish." This was when the conference "became unbearably boring."
As usual, pompous populism trumps the real point, which can be encapsulated in the simple question:
Is buying stolen property right?
Whether one is an "ordinary" Filipino or a top-ranked official of the Philippine government is obviously beside the point when considering a response to the above question. We aspire to be a society where justice is represented by a blindfolded chick holding up a balance. It seems though that even that cliché of a notion is still something too big for the Filipino mind to grasp.
benign0 is the Webmaster of GetRealPhilippines.com.