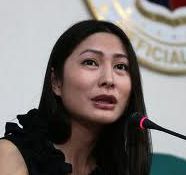 Poor Malacañang, again caught grasping at straws as they pick on the intriguing past of Karen Jimeno who is the star spokesman of the defense team in the impeachment trial of Chief Justice Renato Corona. In a "report" issued by ABS-CBN News yesterday, Deputy Presidential Spokesperson Abigail Valte haughtily announces Malacañang's looking forward to Jimeno's "explanation" of a "statement" she signed "from the University of the Philippines College of Law faculty dated January 2010 urging then President Gloria Macapagal Arroyo not to appoint a chief justice since it would be considered a midnight appointment".
Just because Malacañang "expects" an explanation does not necessarily compel Jimeno to provide it, specially considering that the fact that Corona is being impeached implies that his being Chief Justice is de facto true in the eyes of the law — a fact that any position Jimeno held on the matter back in 2010 does not diminish. Perhaps Philippine President Benigno "Noynoy" Aquino III being the gated-village-raised politician's son that he is has no concept of how true professionals deliver their service as per the terms of the engagement of their services regardless of what they think of the client.
Then again, Jimeno can simply say, "Well I've changed my mind since. Deal with it."
Mr President, women have been known to change their minds, if you hadn't noticed yet. Then again perhaps it becomes less surprising now why the President of the Philippines remains a swinging bachelor at 52.
Interestingly, this comes as new prosecution head Rudy Fariñas revealed yesterday what he really thinks of the Articles of Impeachment document that guides the prosecution's case against Corona…
I read slowly and when the complaint was presented to us … when the last one had signed — there are many speed readers there — because so many had already signed, 188, my signature was no longer needed and the complaint was badly done.

[Translation by Interaksyon.com reporter]
Compared to a document signed by Jimeno in her capacity as a UP faculty member (which has no relevance to the dispensation of her duties now in her capacity as a member of the impeachment trial defense team), it is quite reasonable to presume that Fariñas's interesting revelation would be the one that would require a bit more "explanation".
Of course, how Noynoy chooses to spend his time, whether it be on making Valentines Day plans with current squeeze Grace Lee or digging up irrelevant dirt on impeachment defense lawyers is really up to him. Indeed, what he spends his time on provides the public with a good sense of what his priorities are and what constitutes his personal character…
Perhaps a tad too late now, Lee hopes that she and the President be given the chance to privately "grow this relationship."

"Privacy sana…a little bit of it so that the president and I could enjoy as we develop what we have now," Lee said.
I'm sure the Philippine banking system, can relate Ms Lee.
[Photo courtesy MyPinoy.tv.]
benign0 is the Webmaster of GetRealPhilippines.com.