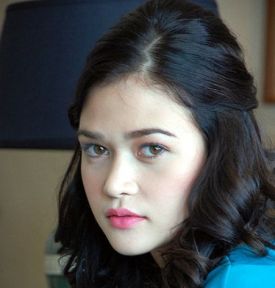 The most recent cover of FHM Philippines — a popular men's magazine that features scantily-clad women as its main selling feature — made global waves after it featured starlet Bela Padilla posed in a brightly-coloured bikini surrounded by black models in black bikinis. The tagline at the bottom screamed "Stepping out of the shadows" in practical literal reference to the imagery depicted.
The spectacle drew cries of racism all over the Net, particularly over social networking sites Twitter and on Facebook where an image of the cover feature was posted.
"DISGUSTING representation of #colorism and #racism in the Philippines!" one user Twitter user wrote, according to London's The Telegraph.

"Shame on FHM Philippines!" another reader, who identified herself as a Filipino-American shoe designer, tweeted.

Just hours after the cover was revealed, more than 300 people signed a petition on Change.org calling for FHM to scrap the shot and apologize.
FHM Philippines has since pulled the cover and will be releasing the edition with a different cover feature.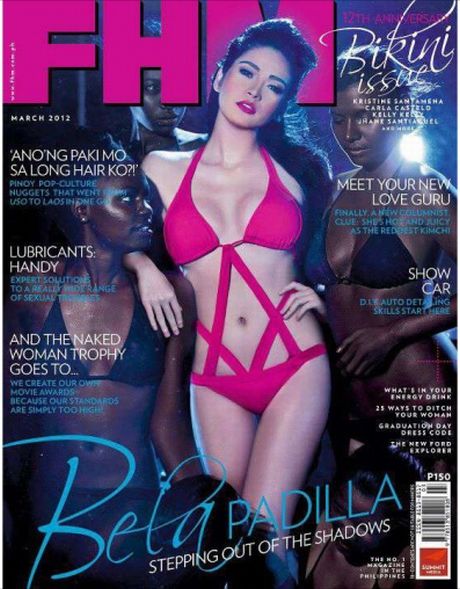 Fair skin is held in high esteem in Philippine society where cultural insecurities see darker-coloured skin as a social disadvantage. The way the cosmetics industry in the Philippines capitalises on this national character is evident in their marketing approaches.
They use "fairness" and "brightness" as euphemisms to describe what are essentially skin whitening products. Just check out the latest press release of the Neutrogena line of products to add to one's "skin-brightening beauty regimen". These are products that, according to the marketing tag line, "aim to brighten complexion and give fair, even-toned skin"…
Whiteness is virtually synonymous with beauty in the Philippines and this particular and this in-your-face reality has been noted time and again as Filipino women of mixed race have consistently dominated international beauty pageants in recent times…
The odds are seemingly stacked up against Filipinos who are "not of mixed race" winning an international "beauty" competition. As such, even within the domestic meat market, Filipinos are under intense pressure to defy their genetic heritage in order to get ahead.
Until Filipinos find a new and deeper basis for gauging their self-worth, they will continue to latch on to the skin deep.
[Top photo courtesy MicaMyx on HubPages.]
benign0 is the Webmaster of GetRealPhilippines.com.