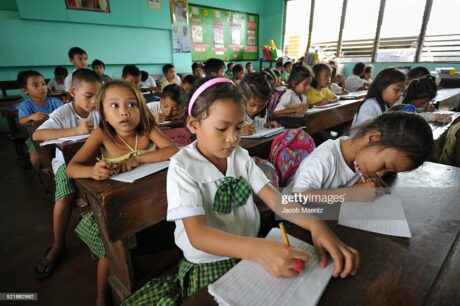 Many who read this blogsite and allied sites may agree that the educational system of the Philippines is in a terrible state. I read some months ago about 58,000 nurses applying for only 10,000 slots in the government. Another one was that around 88% of those who took the civil service example flunked. And we know what gaffe the Department of Education recently did. All these mean something is wrong. Most of our current local graduates seem dim in their knowledge and language skills, as well as even just basic thinking skills.
Part of this, perhaps a great part, owes to the problems in the country's educational system. Thus, educational reform is needed, and has been called for by so many parties. What are among the reforms we may consider?
Biased Historians
First problem in our educational system is the use of biased material. For example, our official historians since the Marcos era were Teodoro Agoncillo and Gregorio Zaide. However, just because they were made "official" does not mean they are necessarily right. Renato Constantino is another popular writer thought to have biased historical writings.
Some today teach in school history that the Philippines is an example of the success of the power of the masses. Former ambassador, government official and Far Eastern Economic Review writer Rigoberto Tiglao wrote that the power of the masses is a myth. The power of the masses is actually influenced by the elite. As explained in Nick Joaquin's book A Question of Heroes, the Filipino Revolutions against Spain and against America were doomed to fail because the elite, the ilustrados, who were the real power behind the revolutions (The Cavite and Manila revolutions), buckled at the last moment.
Official history lessons are usually not revisionist. In our case, I believe we adopted the revisionist stance when we took on Agoncillo's and Zaide's ideas. Their ideas have led to today's graduates being fiercely anti-foreign and antiquated in thinking. For example, Agoncillo promotes primitivism. This is the idea that the true Filipino culture is the bahay kubo and the old tribal bahag (loincloth). However, with better historical analysis, the bahay kubo is not unique Filipino culture. The equivalent of the bahay kubo can be found in Vietnam, Thailand and Cambodia, which have the same climate and materials as the Philippines. He also seems to hint that all foreigners are harmful and their influences must be purged from the country.
Another erroneous notion is that Jose Rizal supported the indio culture. Not true. Most informed historians know Rizal loved Spanish and European culture, and wanted the indio to be "Hispanized." Translating it to today's times, the "Filipino" of today should take on foreign culture. That's why those who say we should remove all foreign culture and that Rizal wanted this are wrong. Rizal wanted the people of the Philippines to take on foreign culture because it will help bring them up to a higher level and make them better equipped to deal with the world.
Much of what can be termed "Filipino" has foreign influences. For example, many colonial-era houses, using native materials, can be termed uniquely Filipino, despite having obvious foreign influence. Thus, it would be unrealistic to carve a Filipino identity by ridding ourselves of foreign influences. These are as much a part of our culture as the local things.
My proposal is thus to pull out biased textbooks and materials from being "official," and put in the more balanced works, such as from Alfred McCoy, Nick Joaquin and William Henry Scott. Perhaps there are better works in the offing. But the anti-foreign attitude is the most important thing to remove.
Erroneous Textbooks
Speaking of textbooks, perhaps you have heard of Antonio Calipjo-Go, academic supervisor of Marian School of Quezon City, who has pointed out numerous factual errors in many of our local textbooks. Perhaps we need to be more stringent and watchful on the content of our textbooks. Perhaps Calipjo-Go's suggestions to the DepEd should be seriously considered.
Curriculum Issues
The curriculum of the Philippines seems to be sorely lacking. For example, some people lament the lack of effective ethics (or GMRC in some schools) and critical thinking subjects in school. A total review of Philippine educational curriculum issues is needed. Instead of adding more years, it may be that the curriculum is wasting time on some subjects that are needless, while others are lacking.
Now we hear of Science struck out of first grade curricula. This move by the Department of Education is a bad move, as it is based on a bias: that science isn't fun. It also reflects the attitude that popular TV networks have: go down to the audience's level. This is wrong. An educational institution should not go down to the audience's level. It should try to bring them up. It is not a TV network. Also, the subject of Mother Tongue seems to me one of the most ridiculous ideas as a dedicated subject. It could be incorporated in the modern equivalent of social studies. It's a given that Filipinos will use their mother tongue anyway. Science should be retained in all levels.
"Be Proud of the Filipino Race." To think that this is part of the so-called Rizal Values Campaign. But I doubt that this is something Rizal himself will actually support. Perhaps this is again the effect of Agoncillo's and Zaide's biased influence on the educational system. It's time to work on those.
Educational Hoaxes
One of the more appalling problems in education is the acceptance of hoaxes as actual fact. Those really educated should know better than to accept these hoaxes.
One is the Code of Kalantiaw. It was once thought to be a real law, made by a datu at about the time of the Medieval Age. But later on, it was exposed as a hoax, or perhaps fiction that was mistaken as fact. We need to watch our educational content to see if we're being taught the right stuff. No wonder people like Antonio Calipjo-Go are hopping mad.
Song and Dance rather than study
Our local entertainment may share the blame in the poor quality of our education these days. This is because of the observation that more children want to sing and dance rather than study. They have programs like where the child was made to dance instead of crying. There are also programs where stories are told of people stopping studies and then making it big in singing and dancing – causing others to mistakenly believe that they have to stop their studies to make it big in showbiz.
And thanks to these programs, some children are being channeled into prostitution and slavery by being hoodwinked to think that they are going for some great show and dance venture. The Philippines' reputation as a 'sex tours' country (quoting Adam Carolla), is not without basis. Unfortunately, Philippine media also needs reform to aid in improving the quality of our country's education.
Corrupt Faculty and Administration
Yes, corruption is certainly a problem, not just in government, but even in society and our educational system. Education officials who list ghost schools or other items in order to get budget allocation to pocket. Biased teachers who send people to anti-constitutional reform rallies for a grade. Forcing a student to buy some wares they are selling for a grade. Making students like a Facebook page to generate cooked votes for personal reasons. There are among the many ways corruption among school personnel happens.
This may disillusion some students, but others makes the excuse that "we need to do this to survive." Thus, ethics goes down in the country.
English Please
Fellow blogger Benign0 also proposed the use of the English language as the sole medium of instruction. I believe that the bilingual policy as instituted under the first Aquino administration (bad programs mostly seemed to have started from that time) aided in deterioration of our educational quality. The premise of this bilingual program, as I heard, was that students were allowed to use the Tagalog word should they not know the English. Sadly, it means the students will not know the right words in English, and will thus be lacking in knowledge.
Even if everyone in the Philippines adopts Tagalog, people of other languages will complain. Some may even fear that adopting Tagalog may cause other languages to die out. As I said before, English is a neutral language. It won't favor any tribal party. Thus, Benign0's proposal to make only English the official language of instruction stands well for me. Of course, teachers should be made free to use the local language in their local areas where applicable.
Equity and Ownership… and the means to increase quality
Finally, I have learned that Filipino educational institutions can only be 100% Filipino-owned, like media, shipping and a few other industries. This raises a stink for me, as media and education are two of the most influential factors in the development of culture. If we have defects in our culture, we can trace them to our educational and media influences. So if media and education are locked against foreign equity, does this reflect a deliberate effort to use these two areas for propaganda?
Thus, opening education and media to foreign institutions may help introduce improvement in our educational system. It may also change media content that is causing our students to prefer singing and dancing to being serious about their studies.
Certainly, a lot needs to be done to raise our educational quality, and this can help provide means to help improve the lives of our people. There are things being done now, but are they the right courses of action? Using this article as a basis, they may not be. But hopefully, someone will listen and finally implement the right reforms in our educational system.
I believe, as my cohorts here do, that what Filipinos embrace as their culture is what actually pulls the country down. And those who seem to be anti-dictators, who may also believe themselves to be "heroes," are the real dictators.