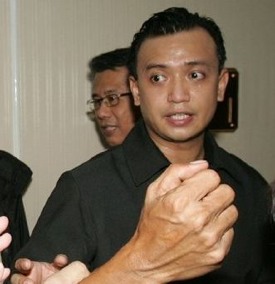 According to "Senator" Antonio Trillanes IV, public opinion will weigh heavily in his final decision with regard to the impeachment of Philippine Supreme Court Chief Justice Renato Corona. In a speech delivered at a forum held at the UP National College of Public Administration and Governance, Diliman last week Trillanes said that he intends to "use political acceptability as the sole criterion to evaluate the projected outcomes of either policy alternative of conviction or acquittal." Trillanes, who is not a lawyer, reportedly studied the "US version of impeachment" which, supposedly is where the Philippine version of the process is modeled. Here is an account of the outcome of Trillanes's "research" on the subject…
"What I found out was, there is not a single book or reference I encountered that says that impeachment is a judicial trial solely based on evidence. To the contrary, all of these references defined or referred to impeachment as a political process."
That seems to suit the "Senator" quite well considering he was once jailed for rebellion against the Philippine Government under the administration of former President Gloria Macapagal-Arroyo and then granted "amnesty" by President Benigno "Noynoy" Aquino III.
One of the articles of that amnesty granted under Proclamation 50 issued in December of 2010 stipulated popularity as the basis for President Aquino's ruling (the author's boldface for emphasis)…
WHEREAS, there is a clamor from certain sectors of society urging the President to extend amnesty to said AFP personnel;

WHEREAS, Section 19, Article VII of the Constitution expressly vests the power to grant amnesty upon the President;

WHEREAS, in order to promote an atmosphere conducive to the attainment of a just, comprehensive and enduring peace and in line with the Government&rsquos peace and reconciliation initiatives, there is a need to declare amnesty in favor of the said active and former personnel of the AFP and their supporters; […]
In short, because the idea was popular and because Noynoy can, jailed "military adventurist" Antonio Trillanes now walks free and sits as a "senator" in the venerable legislature of this "fun" Republic.
It is hardly a surprise that "Senator" Trillanes is beholden to the nebulous notion of "the people's will". In his speech, he said that "it would help if the prosecutors and defense counsels would not to be too technical in their presentations. Ultimately, they would have to win the hearts and minds of the people."
But Trillanes's actions and/or involvement in the "July 27, 2003 Oakwood Mutiny, the February 2006 Marines Stand-Off and the November 29, 2007 Manila Pen Incident and related incidents [listed in Proclamation 50]" put civilian lives at risk. Furthermore, his "military adventurism" created an entire future of political instability and, with it, the ill perception of the Philippines coming from the global community. All that is ultimately detrimental to the ordinary Filipino schmoe who already struggles to find sustainable livelihood as it is. This highlights the irony of how said popular will is actually a disservice to the "people" who are supposedly its source.
So rely on the popular sentiment will he? The guiding questions, Mr "Senator", are these:
Can the popular sentiment be relied upon to rule justly?
And even more fundamental than that:
Does the popularity of an idea — or a ruling — necessarily determine its validity?
Back in November of 2010, I wrote about why I believe that Antonio Trillanes, Danilo Lim, and their band of bandits deserve to rot in jail. It is because they once presumed to be the sole judges of whether what they perceived to be "good intentions" was worth risking ordinary Filipino lives for. It is typical of the Filipino condition that such a man now stands among a bunch of bozos who presume to judge a sitting Chief Justice of the Supreme Court.
But this is of course the Philippines, where the politics are more fun.
benign0 is the Webmaster of GetRealPhilippines.com.