It seems like most Filipinos either do not know the meaning of "due process" or are simply too impatient to understand and observe it properly. God forbid that one become the subject of an investigation or an impeachment bid in the Philippines. Once the Filipino public gets a hold of any information that can be used against a person, the chances of clearing his or her name in court are very slim. Apparently, it is more fun destroying someone's reputation in the Philippines for media pundits and for people who see themselves as belonging to "civil society" groups.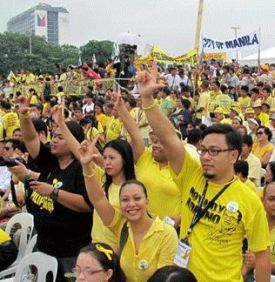 Take the case of Supreme Court Chief Justice (CJ) Renato Corona. Members of the so-called Philippine "elite" are calling on CJ Corona to step down before his impeachment trial even begins for various reasons — most of those reasons favorable to them, of course. They are so convinced that Corona is "guilty" of his crimes that for them, going through the impeachment trial is just a waste; never mind that these people shouldn't even be divulging or discussing any evidence outside of the court to begin with.
Two such noisy voices of fallacy are Akbayan spokesperson Risa Hontiveros and Black and White movement spokesperson Leah Navarro. According to Hontiveros, "the Chief Justice can no longer ignore allegations that he has enriched himself in office way beyond his legal salaries and allowances as a member and now head of the Supreme Court" while Navarro insists that "Corona's resignation would spare the country from a tedious political exercise". They are of course referring to "explosive" evidence exposed by the head of the House prosecution panel, Niel Tupas, "that Corona had bought a 300-square meter penthouse worth P14.5 million in an exclusive enclave in Taguig City as well as other high-end properties".
Don't get me wrong; promoting transparency involving our public servants is good. Hontiveros and Navarro are even on the right path towards uncovering the truth. But asking Corona to resign just because they found out that he has properties out there is not only lame but also reckless. They are obviously playing with the public's mind.
They are also ignoring the fact that being Chief Justice of the Supreme Court is not Corona's first job. He held senior positions in both public and private companies in the past including stints at the Development Bank of the Philippines (DBP) and at the prestigious accounting firm, Sycip Gorres Velayo & Co (SGV). Investing and having some savings in the bank must be a totally alien concept to people like Hontiveros, Navarro and Tupas. They think that Corona's current salary is his only source of income. Besides, I don't understand why they are making a big deal of Corona's investment properties when I personally know of people with regular jobs that also own investment properties.
More importantly, they are ignoring calls to quit revealing evidence to the public before the trial begins. Some rational members of society including Senator Juan Ponce Enrile, already warned Tupas against his penchant for rabidly announcing to the media what should only be discussed during the impeachment process. Enrile even went as far as telling Tupas to go back to school:
"Kung gusto nilang litisin yung kaso sa labas ng impeachment court e di i-withdraw nila yung kaso at isiwalat nila sa buong mundo yung gusto nilang ebidensya (If they want to try the case outside the impeachment court, then they should withdraw the case and expose whatever evidence they want to the entire world)," he said in a phone interview on Thursday.

Enrile said he would be "˜very lenient' to the prosecution team but warned that the impeachment court could cite them in contempt for presenting to a press conference documents pertaining to a high-end apartment in Taguig City that was allegedly owned by Corona.

Enrile specifically trained his gun at the chief prosecutor, Iloilo Representative Niel Tupas Jr., who made public disclosure of the documents against Corona.

"Sabihin mo kay Cong. Tupas mag aral muna sya (Tell Cong. Tupas to study the rules)," said the Senate leader when told of the lawmaker's remark that he had not violated the impeachment rules.
Preemptory language of Rule XVIII of the Rules of Procedure on Impeachment Trials states that the presiding officer and the members of the Senate "shall refrain from making any comments and disclosures in public pertaining to the merits of a pending impeachment trial." The said rule applies to the prosecutors, to the person impeached and to their respective counsels and witnesses.
Where does President Noynoy Aquino (PNoy) fit in all this?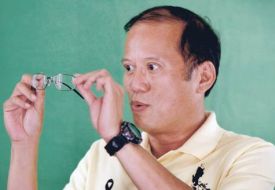 For a guy who has devoted much of his term to single-mindedly persecuting his political opponents and those he suspects are conniving with them, PNoy seems to be acting totally clueless about attempts at pre-judging Corona's case to pressure the SC chief to resign. PNoy is not even concerned that the case might get junked if the prosecution ends up being cited in contempt of court for violating the rules of the impeachment process.
PNoy is even allowing his own celebrity sister, Kris Aquino to influence the public's opinion through the use of media network ABS-CBN. In a television interview during a show on Vice Ganda, Kris once again tried to appeal to the people's emotion by saying that "her family needs the vote of Senator Miriam Defensor-Santiago in the impeachment case of Chief Justice Renato Corona." She's assuming of course that what her family needs is also what the country needs and what the public wants. Does Kris even know the details of the case? Whether she knows about it or not, somebody needs to tell her to shut up about it as soon as possible.
PNoy's number one apologist in media, Inquirer.net columnist, Conrado "Noynoy is like Aragorn" de Quiros has also gone into full gear, attacking even those who are merely reminding everyone to be objective.
It appears objectivity is actually what PNoy and his minions are trying to avoid. De Quiros's latest article was exclusively devoted to undermining the credibility of Senator Joker Arroyo who will also act as one of the judges in CJ Corona's impeachment trial. He lumped Senator Joker Arroyo together with Senators Juan Ponce Enrile and Mirriam Defensor-Santiago as being loyal to former President Gloria Arroyo (GMA) while giving high praises for PNoy whose only achievement so far is to further divide the Filipino people.
PNoy must be gushing from all the love he gets on account of all the kudos coming his way from the left and the right. He is awfully quiet nowadays, a far cry from how he stood up for pet members of his cabinet when they were under scrutiny. When it comes to his allies, President Noynoy Aquino is normally quick to use the "rule of law". On several occasions, he defended his cabinet and staff members from public inquiry by saying that we have to follow procedure or due process.
When his friend and Department of Interior and Local Government (DILG) secretary, Rico Puno got embroiled in allegations that he was one of two trusted Aquino officials who were receiving proceeds from the illegal numbers game jueteng, this is what he had to say:
"We are conscious about that and that is why if I am expecting loyalty from them, I can also provide loyalty in the sense that they will be given due process and we will not be carried away by speculations or suspicions, allegations that are baseless," Aquino said.

[Author's boldface for emphasis]
Puno was also criticized for the bungled rescue operations and negotiation during the hostage crisis in Manila that resulted in the death of eight Hong Kong tourists last Aug. 23. Of that one, this was what PNoy had to say:
"Their work will be wasted if we immediately remove a person and say he is guilty when under our laws he is presumed innocent. So, we have a process. We should give the same process given to our enemies to our friends and allies too. They should also undergo a process. I cannot hang him just because some people asked me to. I don't think that is right," he said.
PNoy dismissed calls for Puno's resignation even after Puno himself already tendered his own resignation. He even dismissed his own party-mate, Senator Franklin Drilon's advice who said that Puno's resignation "should give President Aquino an opportunity to act decisively on this raging issue before the public".
Considering PNoy knows a lot about due process, why the heck is he letting loose his attack dogs? Obviously, it has something to do with their Plan B, which, according to some, is to rile the public up against Corona as a back up measure in case the impeachment bid gets junked or withdrawn — a possibility that can only be ultimately blamed on PNoy's prosecution henchmen in Congress.
For goodness sake, let people like Corona have their day in court and stop talking about his case outside of court!
In life, things are not always what they seem.