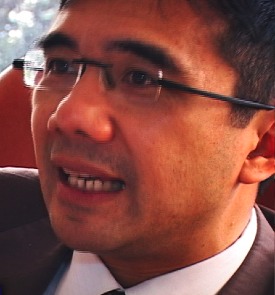 Today's impeachment trial session (evaluating the bid to impeach Supreme Court Chief Justice Renato Corona) seems to have been about the rigour around which the proceedings are being conducted by the senator-judges led by Senate President Juan Ponce Enrile. One of the more revealing moments of the session was around the way the prosecution called for a more "liberal" and "flexible" enforcement of the rules of the trial. Some interpret this as an admission on the part of the prosecution that the evidence they present is not solid enough to withstand the scrutiny not only of the defense but of the more astute among the senator-judges. According to Rep. Neil Tupas, lead prosecutor of the House prosecution panel, the rigour being applied to the proceedings "has unduly restricted during the last two days the presentation of the evidence by the prosecution". Enrile's response was swift and sharp…
"What way do you want me and the court to be more flexible? Are you suggesting that we should allow misleading questions? Are you suggesting that we should allow hearsay evidence? Are you suggesting that we should allow argumentative questions?"

Tupas said this was not his intention and reiterated that they just want "flexibility" without sacrificing "due process."

"If you want me to relax the rules, then tell me how I must do it and to what extent. [I am willing to] bend, accommodate [your suggestion to] show you that this court is not for or against anybody… but I must conduct this proceeding in an orderly manner," [Enrile] said.
Tupas reportedly "could not explain what he wanted from the Senate".
Just like the evidence being presented by the prosecution, not to mention the Articles of Impeachment itself which defines their very case, it seems that even simple requests that the court be "flexible" and "liberal" cannot be qualified by Tupas. Indeed, Senator Miriam Santiago showed the prosecution how such questions should be framed and submitted her suggestions on criteria for qualifying evidence, the rigour with which it is evaluated, and the manner with which its essence and context is presented.
SUPPORT INDEPENDENT SOCIAL COMMENTARY!
Subscribe to our Substack community GRP Insider where you can opt to receive by email our more comprehensive and in-depth free weekly newsletter GRP Mail. Consider also supporting our efforts to remain an independent channel for social commentary and insight by sponsoring us through a small donation or a monthly paid subscription.
Subscribe to our Substack newsletter, GRP Insider!
Learn more
Then again there is a more subtle point that Tupas may need to comprehend. Step back from the whole "debate" around how "liberal" or "flexible" the impeachment court should be and regard what is really at work here. Tupas and the prosecution team are evidently handily outclassed by Corona's defense team. As such whether it is a strict or a "liberal" application of the rules, the defense will make minced meat of Tupas's team. Tighten the way the rules are enforced and we will likely get more of the same of Tupas's whining. Loosen up on applying these rules and the defense team will also have more latitude to apply their brilliance to the destruction of the prosecution case.
Either way, Tupas and his guys lose. The only way they can win is to learn to be better trial lawyers.
That's going to have to be a real hardcore crash course. Even a simple question on the presumption of innocence put forth by senator-judge Gregorio "Gringo" Honasan, while swiftly responded to by defense team leader Serafin Cuevas, momentarily stumped Tupas. Honasan's question was around whether the basic principle of presumption of innocence is being upheld by all parties in the proceedings. Of course Cuevas, being in the defense team would re-assert that basic principle. Tupas did too (eventually), but then, he could've at least pointed out that as the prosecution in this trial, they necessarily need to hold a position of applying a kind of hypothesis of guilt to guide their efforts to present evidence and their arguments around these. He could have even argued to the contrary on the basis of the nature of the impeachment trial as not strictly being a criminal proceeding (a point also argued by UP Law professor Florin Hilbay) and therefore not one where presumption of innocence is fully applicable. It wouldn't have mattered anyway, as a campaign to demonise Corona (many instances of which Tupas himself seems to have led) has been in full swing over the last several months regardless.
Recall then the fiery speech delivered by Tupas at the opening of the impeachment trial where he ended with this…
In closing, the message of the House, as the representatives of the people, is the same as that given by Oliver Cromwell when he dismissed England's Long Parliament on April 20 of 1653. Before God and country, we say: "It is high time for us to put an end to your sitting in that place, which you have dishonored by your contempt of all virtue, and defiled by your practice of every vice, you are an enemy to good government, as you have sold your country for a mess of pottage, and like Judas Escariot betrayed your God for a few pieces of gold. Depart I say, and let us have done with you. In the name of God, go!"
It seemed that a presumption of innocence was clearly anything but what the prosecution applied at the time (fair enough, in a sense, considering they are the prosecution after all). Now however, in the way Tupas balks at responding with the same conviction to Honasan's simple question, it seems we are seeing the toll that days of unconvincing performance from the prosecution is taking on Tupas's resolve.