I believe they can.
Last July I traveled to a remote part of the Sierra Madre mountains in northern Luzon where I spent two weeks with the indigenous Agta and Dumagat communities of the area. Being a travel and documentary photographer based in the Philippines I do a good amount of traveling around the country, but visiting this part of Isabela was different and truly eye opening. During my time there I witnessed an authentic way of life that I have rarely seen throughout my travels. The indigenous Agta and Dumagat communities there are still very much practicing their nomadic lifestyle, living off the land and ocean using traditional hunting and fishing methods passed down from generation to generation. The forest and rivers which provides food for these communities is the cleanest and most pristine I have seen in the country. The main reason for this is because of their isolation, there are no roads going there. A small part of Philippine cultural heritage is tucked away being preserved.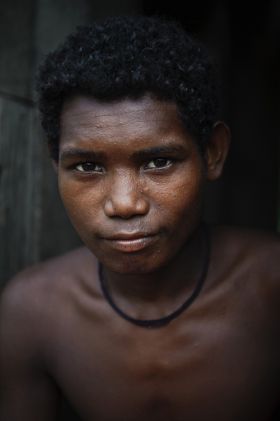 In the next decade, however, this way of life that the Agta and Dumagats have lived for centuries could very well change. There are currently plans to develop a road that would transverse the Sierra Madre mountains connecting the two small isolated towns of Divilican and Maconacon to "main land" Luzon. Building a road through the middle of the country's last remaining and largest track of primary forest would be a disaster. The pressure a road will bring on the forest resources and influx of people will slowly plunder what biological diversity remains. Aside from the irreversible environmental impacts a road like this would bring, the Agtas and Dumagats in the area will surely lose their way of life. For indigenous peoples who depend on the forest for their food, pharmaceuticals and peace of mind, taking away their land, as history shows, will diminish their way of life. After hearing about this plan to build a road I realized something needed to be done. We had to let people know about the remaining indigenous cultures throughout the Philippines, before it's too late.
Today, there are 110 recognized indigenous groups remaining in the Philippines making up ten percent of the total population.
After returning from Isabela, I started to gather more ideas and brainstormed for months before my wife and I launched the Katutubong Filipino Project. The Katutubong Filipino Project aims to bring about awareness of the Philippine archipelago's indigenous peoples by visually documenting their slowly disappearing cultural heritages. For me, creating meaningful photographs to better the world is why I decided to become a professional photographer and this project is just an extension of this. Images can be an incredibly powerful and compelling tool for communication. Strong photographs can cause people to stop and think for a moment letting them generate emotions about a subject while getting a glimpse into a different world. Likewise, photographs have a way of showing our common humanity, despite our many differences, and can help people unite and generate respect toward each other.
From my own experience, many Filipinos know very little about the diversity and cultural richness of their ancestors, but by no fault of their own. Filipinos are taught very little in the public school system about their indigenous history and many come to know indigenous peoples only as beggars on city streets. It's a sad reality, but similar to many western countries in how their native peoples were treated during times of development and expansion. Perhaps if every Filipino could see their ancestors in a new light they would slowly change their perception of them. If people had more respect for indigenous cultures it's more likely they would support programs or even elect officials working toward their good.
The Katutubong Filipino Project aims to bring about awareness of the Philippine archipelago's indigenous peoples' by visually documenting their slowly disappearing cultural heritages.
Here are two contrasting stories, one of the Tagbanuas in Palawan and one from the Mamanwas in Mindanao.
In 1998, the Tagbanuas of Palawan were given the first-ever claim on ancestral waters by an indigenous community in the Philippines. This 22,000 hectares of sea and land includes Coron island, which is considered a sacred island to the Tagbanuas. Currently, 10% of Coron island is open for tourists to visit and the Tagbanua collect a fee from all the visitors. The remaining 90% of the island is considered sacred by the Tagbanua and they do not allow visitors to go there. The Tagbanua still collect swift nests in the limestone cliffs of Coron island, like they have done for centuries, and sell them to Chinese traders. This is a success story because the Tagbanua have control over a part of their ancestral land and have made the decisions themselves on how to manage it. If more indigenous groups throughout the Philippines were given their rights and had a stronger voice I know there would be many more success stories like this one.
In Surigao, Mindanao, the Mamanwa's have been given a different history. This area is home to one of the world's largest nickel deposits and mining companies have come to rule the land. The mining companies provide housing and a small percent share to the Mamanwas in return for their most precious asset, their land. The Mamanwas no longer have a voice and are dictated by what the government and mining companies say. When I went to Surigao last June I visited a remote Mamanwa village 3km into the mountains. It was a sad picture to see and I was treated pretty harshly. I was asked to give 6,000Php to take a few pictures around their community. It wasn't the issue really of them asking for money to photograph their community, but it was their attitude. Everything now to the Mamanwas revolves around money and they have experienced a loss of their culture and traditions because of it. Perhaps sustainable tourism would be a better option for a place like this, following a similar example of the Tagbanuas. Whatever the case indigenous peoples should have control of their land and have decision making power over it.
Change is inevitable in the modern world that we live, but change can happen without force and with input from all parties. Like in the case of the Tagbanuas, my hope is there will still be many more success stories from our indigenous peoples.
So can photos help save our Filipino indigenous cultures? If you believe that awareness and changing peoples perceptions about their ancestors can be a start for positive change, then yes, photography is a very powerful medium to do this.
Please help us make the Katutubong Filipino Project a reality by supporting our Kickstarter campaign. Visit our Kickstarter page to watch a short video and see all the awesome rewards for supporters. Help us make this project be realized!
Jacob is a freelance travel, culture and documentary photographer based in the Philippines. His photographs often reflect his background in conservation and explore issues related to the human condition and natural world.