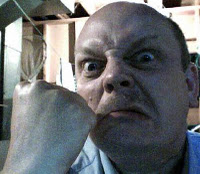 While watching Immigration officials stopping former president Gloria Macapagal Arroyo from leaving the country on TV, I marveled at the people who would scream at the top of their lungs at the TV screens, saying something like, "catch that thief! jail her! Hahaha!" I thought, that was such immature or trivial behavior. As if they were watching a movie.
It's an interesting observation of Filipino behavior, shouting at the things they watch (like the watchers with guns who shot up the projector screen when they say FPJ's character die). But it bears the question: Why are some Filipinos so worked up and excited to punish GMA even if there are so many other corrupt who are also part of the effort to jail her?
Perhaps it is an indication of their own weakness, that they cannot do anything but sit on the sidelines saying "jail her, jail her!" as they lazily sit in front of their TV sets munching on chicharon while having their anti-high-blood medications at the ready (or not). They may have had the chance to write their congressman to ask for a repeal of the economic provisions of the constitution, or engage in some other useful action. But they instead prefer to find entertainment in real life, seeing the GMA issue as something to scream about, and treating it like a game between Ginebra and another basketball team (where one takes sides, cheering their team and cursing the other).
European Institute for Asian Studies (EIAS) vice chairman Dick Gupwell weighed in on the issue, saying the Aquino administration is not pursuing justice, but vindictiveness. It's a common practice in Filipino politics; once a new person wins the elections, they will turn against their predecessor, if not by trying to harm or jail them, by undoing all their good projects. Vindictiveness is one of the things that politicians disguise as justice, even if it isn't. It's one of the things that obstruct true progress in our country.
Gupwell further said, "if people committed crimes they must be brought to justice but not in a humiliating way…." and come to think of it, Filipinos seem to love humiliating others. It's a character flaw that's so commonplace, you see it in often on online forums. Filipinos seem to enjoy seeing others suffering, which is also called schadenfreude. But they may make no effort to improve their own lives. They may enjoy seeing others suffering as "revenge" for their own condition – even if the one they are jeering is not responsible for their condition. They probably treat what they see like the lousy telenovelas they watch. This is perhaps what makes the court of public opinion popular even though it can be very misguided and indecent.
Perhaps this is because of the yabang and arrogance Filipinos seem to naturally emit, as well as this twisted sense of entitlement that they have the right to humiliate others. But to this end, they show that they are themselves corrupt and shallow. F. Sionil Jose wrote that Filipinos are so shallow. In this rage against GMA, they seem so shallow too.
I still see the rage to jail GMA as another distraction from the real issues. A recent article from GMA News (no, not Arroyo, the TV network) quotes a study conducted in other countries of Filipino workers. It says the OFW phenomenon is doing more harm than good, and that harm includes the breaking up of families and even the possible breakdown of our economy. In addition, Saudi Arabian authorities announced that they might put a cap on remittances of foreign workers to their home countries (and ultimately, their families). This is also possible in other countries. The Philippines' OFW-driven economy is in danger of collapsing. But Filipinos don't seem to care about this. They prefer to jail a former president, thinking that it's such a great achievement.
Filipinos can rage to have someone punished or killed as a convenient escape from their own problems. Of course, it certainly is hard to think about one's problems; but you must think about them in the end. People looking for an escape in schadenfreude only show their lack of civility. They may even be worse than the people they rage against.
I believe, as my cohorts here do, that what Filipinos embrace as their culture is what actually pulls the country down. And those who seem to be anti-dictators, who may also believe themselves to be "heroes," are the real dictators.