Apparently, Filipino boxing champ Manny Pacquiao does not think too highly of immigrants. In an interview he implied that naturalised citizens cannot claim to be considered to be a true national of their adopted country…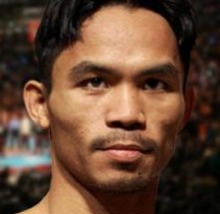 In a press conference after his return to General Santos City, Pacquiao fired back when the press asked him about his less-than-stellar performance. He quipped: "'Yung isyu na 'yan ay nagsimula kay Ronnie Nathanielsz. (That issue started with Ronnie Nathanielsz.) We know naman Ronnie Nathanielsz is not a real Filipino, adopted lang siya (We know Ronnie Nathanielsz is not a real Filipino, he's just adopted."

Pacquiao was referring to the fact that Nathanielsz was born in Sri Lanka and is a naturalized Filipino. Pacquiao added, "Wala siyang dugong Pilipino, hindi natin masisisi siya kung anong paniniwala niya (He has no Filipino blood, so we can't blame him for thinking that way)."
I wonder then what he would think of the millions of Filipinos who call the United States their home. Would Pacquiao consider them to be "not real" Americans?
Perhaps he is right, as many Filipino Americans seem to harbour a sense of "binary nationalism" despite many of them being born and growing up in the United States…
An example of this "binary nationalism" was on display on July 8 when hundreds of Filipino-Americans – members of US Pinoys for Good Governance (USP4GG) – demonstrated in front of the six China consulates in the US to protest China's incursion in the Philippine-owned islands of the Spratlys where China seeks to extract $50 billion worth of oil annually.

Even Filipino Americans who were born in the US ardently participated in the protest actions as they identified with their parents' homeland, joining the chants of "Our soil! Our oil!" as they waved US and Philippine flags. They too are part of the Filipino diaspora.
Maybe someone should ask Ronnie Nathanielsz what he thinks.
benign0 is the Webmaster of GetRealPhilippines.com.