This is the man and the administration all these bozos campaigned for. Philippine President Benigno "Noynoy" Aquino III let an entire year pass without filing a formal legal case against the lady he's taken pains to demonise since 2009. So now the Yellow mob are relying on lame humour to anesthetize themselves as they watch former Philippine President Gloria Macapagal-Arroyo walk into a plane laughing thanks to a "temporary restraining order" (TRO) issued by the Supreme Court on a travel ban slapped by Malacañang on Arroyo earlier.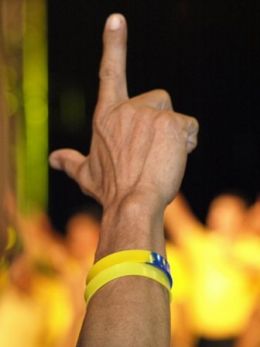 Perhaps she may take her seat in a Lecter vest (a-la Con Air) or fly out on a broom as some of our "influential" talking heads on Twitter say she will. Some people can even pray for a better-timed airline strike or for heavy traffic on the roads leading to the airport.
But, dudes. Chill. At the end of the day, here is your cherished "Constitution" at work. Love it because you can't leave it (perhaps because certain cards of a leafy hue were torn up back in the heady days…tagadshhh!!). So we see another 'demon' of the current administration laughing all the way to the airport. Tough luck is more the words that appropriately mark this day, me thinks.
Perhaps next time, think about who you campaign for a bit more carefully…
The point here lies in the ironic role Jim Paredes plays in today's politics. In his recent concert with the Apo Hiking Society organised, it seems, to marshal support for the "Yellow Army" a Noted Blogger once giggled about on television, guest of honour Benigno "Noynoy" Aquino Jr himself capped the night by coming on stage to assure the audience that "his Mom and Dad were looking down from the heavens and would be proud of the support generated by this campaign".
Unlike in the glory days some us of keep sighing about, there is nothing of the sort of "Edsa magic" to fall back to now. There is only The Law (which, ironically, these so-called street rallyists danced the ocho ocho on Edsa to uphold). And it is now being put to good use — by those who have the brains to use it to their advantage. Too bad certain celebrities campaigned for a man who has so far proven to all that he lacks any such.
So rather than whine about doing one's best, we should learn more about what we need to do to earn the right to go home and bonk the Prom Queen. Perhaps those who are good at patawa get all the chicks. Then again it depends on whether this patawa is reminiscent of the type that made shows like Iskul Bukol runaway hits back in the years when a certain boy-band from the Ateneo was also making waves.
benign0 is the Webmaster of GetRealPhilippines.com.