I read recently that the city government of Quezon City is set to levy an additional tax on property located within its administrative jurisdiction on top of whatever taxes are already being paid by their owners. So aside from the property taxes being collected from the landed gentry of this fine city, the Quezon City government will be collecting an additional tax representing 0.5 percent of the assessed value of the property annually. This means that the owners of a property worth Php 5 million will be slugged with an additional tax bill of Php25,000 every year.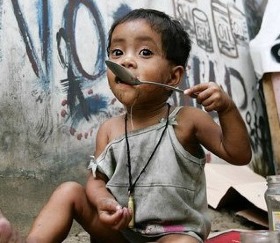 The additional tax will reportedly fund a housing program for Quezon City's estimated 2,000 "informal settlers" (a euphemism used nowadays in place of the more real word to describe this sector of Philippine society – squatters)…
"From all over the Philippines pumupuntang Quezon City for a better life, only to realize na wala pala silang bahay dito. What if bigyan natin sila ng magandang pabahay?" said [District 4 Councilor Edcel Greco] Lagman [who authored the ordinance].
Translated: From all over the Philippines, they come to Quezon City for a better life, only to realise that they don't have a place to live here. What if we give them nice houses in which to live?
I'm not sure what the honourable Councilor is implying here but I, for one, like these squatters also go to where I feel I will find a "better life". But that does not mean I will expect other people to make that "better life" happen for me. I think better lives happen to those who take the initiative to make it happen for themselves.
So why should property owners fork out a good chunk of their hard-earned wealth so that these squatters can be given nice houses to live in?
Perhaps if Quezon City property owners get sold on the concept of their city becoming a go-to haven for "informal settlers" they might just come to consider this quite the dandy idea that their honourable politicians think it is. After all, there is money to be made from the extra warm bodies hanging out in Quezon City's streets. For one thing, local franchises trading in the renowned cuisine of the "informal settler" community will start to thrive. Pagpag as the cuisine is called is "leftover food-stuff from fast-food restaurants scavenged from garbage sites and dumps". Much-needed economic stimulus coming from the pagpag industry that "informal settlers" will bring perhaps will compensate for the additional Php25,000 the average Quezon City homeowner will be coughing up under the new ordinance…
Small cottage industries have arisen around pagpag with impoverished people making a living scavenging, collecting, processing, and selling the processed pagpag to impoverished poor people.
The mayor seems to agree that the economy of Quezon City will benefit from the influx of immigrants that the new tax will induce:
The local government, meanwhile, said informal settlers will not be the only ones who will benefit from the tax scheme.

"Kung bibigyan natin sila ng housing, magiging taxpayers na rin sila baling araw. So we are breaking the cycle of poverty," said Quezon City Vice Mayor Joy Belmonte.
Translated: If we give them housing, they will become taxpayers someday. So we are breaking the cycle of poverty.
Perhaps then the next step is to come up with an ordinance to start taxing the sale of pagpag. It is only fair that we among the landed gentry of this fair city named after the first Commonwealth president expect that those who come to live in our city pay their dues as well. After all, the new tax to fund their housing is being pitched to us on grounds of fairness too.
"I would rather have a Philippines run like hell by Filipinos than a Philippines run like heaven by the Americans" — Manuel L. Quezon
Spoken like a true Filipino.
benign0 is the Webmaster of GetRealPhilippines.com.