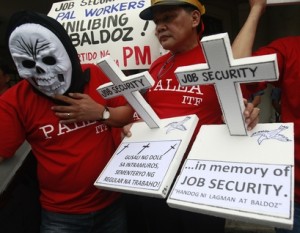 I have been following the bizarre drama of Philippine Airlines, "the world's most entertaining air carrier", for nearly a year as it has struggled mightily – and at times, comically so – towards implementing an outsourcing plan which PAL hopes will turn its financial fortunes around. The sticking point throughout the whole sorry saga has been the resistance of the Philippine Airlines Employees' Association (PALEA), which represents the 2,600 catering, reservations, and ground service workers who have been made redundant by the plan of PAL to divest itself of those three business units.
On Tuesday, with Manila and most of the rest of Luzon already dealing with being pounded by Typhoon Pedring, the PAL-PALEA dispute came to an ugly head when 300 or so PALEA employees staged an all-day "work stoppage" at NAIA, forcing PAL to suspend all operations and stranding, according to an airline spokesperson, about 14,000 passengers. The wildcat strike, which was patently illegal according to Philippine labor law and presumably punishable under the terms of the Civil Aviation Act of 2008 has sparked the predictable debate online, much of it rather idiotic if the examples strained from the Net and posted by Paul Farol over at Pinoy Buzz yesterday are any indication, including this gem he dug out of Raissa Robles' blog:
Meanwhile, in the blogosphere, blogger and Journalist Raissa Robles needles PAL over an apparent attempt to mislead people with semantics, specifically with the word "non-core personnel":

I can't help but notice that a sit-down protest held by PAL's ground employees yesterday totally paralyzed company operations and caused 14,000 passengers to miss their flights.  

Didn't PAL keep saying – to justify the sacking of several thousand employees – that what they were out-sourcing were "non-core" activities?  

"Non-core" would mean that these activities are not that vital to their day-to-day operations, right?  

And yet when these "non-core" personnel struck yesterday, company operations were turned into total chaos.

Robles then leaves a link to a previous article where she underscores her abilities as an investigative journalist. Robles essentially tries to contextualize PALEA's strike, somewhat suggesting it is a justifiable recourse despite what the Civil Aviation Act of 2008 says.
So, Ms. Raissa is an investigative journalist. Good for her. I am, among other things, a consultant and analyst of the airline industry, and coincidentally happen to be working right now with a sizeable Middle Eastern carrier on various issues concerning its own outsourcing plan. So I have the privilege of drawing on a bit more specific knowledge than she can when I commented on her brief and sarcastic post with:
You seem to have a rather naïve understanding of what a "core employee" is to an airline. The "core task" as far as any airline is concerned is moving paying passengers from one point to another by means of an aircraft. That requires flight crews to operate the aircraft, and cabin crews to maintain passenger safety. Everything and everybody else is "non-core". Essential for efficiency and productivity, yes, but not necessarily something the airline needs to provide itself, if useful alternatives (such as contractors) are reliably available.

Outsourcing is the way of the world in the airline industry, it's sensible business. Personally, I'm skeptical of PAL's ability to manage tying their own shoes correctly, but I'll tell you what, I'd think even less of them from a business perspective if they didn't do this spin-off. PALEA has had more than a year to come to terms with this, and they have consistently picked the most idiotic and counter-productive choice [of how to respond] every time they've had a chance.

Could PAL have handled the situation on Tuesday better? Probably. But if I'm a suddenly-stranded passenger, already dealing with a typhoon and faced with some planking jackass at the check-in counter preventing me from getting on my flight home, or to the job overseas I need to send my kids to school, I'm not going to blame the abstraction of PAL management. I'm going to blame the fool in front of me who's visibly ruining my day, and the group represented by the name PALEA on the sign he's carrying. And I'm not going to be particularly convinced of his argument that job security is his "right."

[PALEA President] Gerry Rivera should have thought of how this would really play to the public, but he's been so out of touch with reality all through this saga that it would have been a real surprise for him to get a clue now.
And therein lies the rub. For all its faults – and it has more than I can count – for all its history of bad relations with its labor unions, and whatever its real motives are, PAL has at least proceeded in line with the basic core goal of keeping its planes in the air and keeping people on the move. Yes, it does a terrible job at it, and there are much better alternatives for the consumer even in this limited air transport market. Nonetheless, the inescapable conclusion is that, however small the added-value PAL's existence may actually be, it does, perhaps in spite of itself, provide a public service.
PALEA does not. PALEA provides a service for, at this point, roughly 300 malcontents out of about 2,600 people, the rest of whom, while understandably not exactly thrilled with the new arrangements and probably rightly concerned about their prospects in an uncertain job market, took what they could get out of an inevitable situation and moved on.
The President characterized the "labor action" on Tuesday as "economic sabotage" and for once he's actually right about something. PALEA is conducting an assault on the Filipino people, and it's actually a three-pronged attack. First, there was the incredible confusion and inconvenience caused by forcing PAL to ground on Tuesday. Many of the affected passengers were probably only inconvenienced – but does PALEA know how many may have missed being somewhere really important, and will suffer serious consequences as a result? Second, PALEA's action damaged the image and reputation of the country. PAL is the only airline that carries the country's name to other places (Air Philippines, which only has limited and usually code-shared service to Singapore and Hong Kong, doesn't count), and while whatever ire an international traveler might feel when learning he can't board his flight to Manila is of course probably going to be directed at the airline, he wouldn't be feeling that ire for that particular reason if it were not for PALEA's planking jackasses in NAIA.
And finally, PALEA's antics harm the cause of every other labor organization in the country. The Philippines is not a good atmosphere for organized labor in the first place, which is unfortunate because at this stage of the country's development many workers do need the protection a union can provide. By behaving in an irresponsible way and making the public the bearer of the consequences of their actions, PALEA risks hardening public opinion against unions in general, and as public opinion goes, so go the opinions of legislators who keep their jobs by reacting to it without looking into circumstances too deeply or objectively.
Economic sabotage? PALEA is lucky they're in the Philippines. A country with less of a sense of humor might consider it something a lot worse.
I write a column for The Manila Times on Tuesdays, Thursdays, and Saturdays. Most of the energy sector and the heads of several government agencies probably wish I didn't.