Of course the best policy is to shut up when faced with an awkward situation. Thus the term awkward silence. The Wikileaks-facilitated expose on what the United States really thinks of the Philippines is one awkward situation indeed. Of course it does not take a genius to work out how a bumbling basket case such as the Philippines figures in the priorities of a superpower such as the US. But then to actually have the finer details of the US's less-than-surprising sentiment towards its embarrassing former East Asian posterchild spelt out in black and white still makes a good talking point among the nation's chattering classes.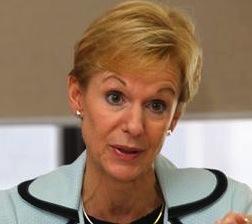 Former United States ambassador to the Philippines Kristie Kenney, caught red-handed (albeit after the fact) dissing Philippine President Benigno "Noynoy" Aquino III is keeping mum. What else can she do when there is no denying the existence of a document that allegedly quotes her making rather spot-on assessments of the Philippine President's diffidence and assertiveness?
SUPPORT INDEPENDENT SOCIAL COMMENTARY!
Subscribe to our Substack community GRP Insider to receive by email our in-depth free weekly newsletter. Opt into a paid subscription and you'll get premium insider briefs and insights from us daily.
Subscribe to our Substack newsletter, GRP Insider!
Learn more
It is particularly awkward considering that Kenney was quite the celebrity diplomat during her Manila gig. She has in excess of 21,700 followers on Twitter with Filipinos, by my reckoning on the basis of a small sample consisting of the first 50-odd followers that shows up on her profile, comprising 70 to 80 percent of these.
Indeed, during her stint in Manila, Kenney was a frequent subject of adulation in the Philippine Media which avidly followed her very public hobnobbing with the who's-who of Philippine society in various social events. She was, according to her Filipino fans, the "most loved US envoy the country has ever had". During her tearful farewell in early 2010 after four years serving in Manila, Kenney vowed to return…
"I will be back. Because once you have me as a friend, you have me for life. I love this country. I enjoy being here. I'll be back to visit friends, to dive, to see everything that's going on here."

"Paalam sa inyong lahat (Farewell to you all). Thanks to Filipinos throughout the world for being great friends not just to me but to Americans wherever they are. Goodbye. I'll see you until the next time," she said before reciting her 'favorite Irish blessing' which she offered to the entire nation.
Makes it doubly awkward considering this "vow" presumably still stands.
Malacanang also zipped up, but not after President Aquino, true to form, had already let loose some dissing of his own against the former US ambassador who he claims to have been "misled".
Obviously piqued and definitely not unassertive, Aquino said this week that Kenney had been misled, that her assessment of him was wrong, and that Washington should improve its intelligence. "The way I see it, there is a person on the ground who is the eyes and ears of one of our biggest allies and yet it seemed so easy to be misled. So you tend to think what are the implications to foreign policy? What is she reporting? If they believe that she is the most prompt and complete source of information, it seems far from the actual truth," Aquino said, according to news reports.
Foreign Secretary Albert del Rosario for his part called her "a dismal failure".
By the time Communications Secretary Ricky Carandang parachuted in to effect a too-little-too-late "No Comment" policy on anything to do with the subject, the awkwardness had already set in.
"I think in that particular case, there was something said about his mother and I think it was important for him, for (Foreign) Secretary (Albert) del Rosario and for others who have commented to set the record straight since the comments were already out in the media," Carandang said.

"But in general, we will refrain from commenting on those WikiLeaks reports," he said.

Still, he said that if the Aquino family would want to make comments on WikiLeaks that had to do with Ms Aquino, "they are free to do so."
Deafening silence.
It is a boo-boo that plays out like a scene from an episode of a Ricky Gervais sitcom. At best we all 'ave a bit of a laugh before going to bed. I find that the active ingredient in the best comedies is quite often more than a dash of the Truth.
benign0 is the Webmaster of GetRealPhilippines.com.