Poor Christopher "Chris" Lao. He is not your average guy. He seems like the type of person who would not hesitate to just do things. Whether it is driving through a flooded street or speaking his mind in front of millions of people in front of a TV camera, he apparently would not think twice. He does not look like the type who would stop to think about the consequences of doing both either. He is what you would call a go-getter. But for that, he has become a national laughing stock.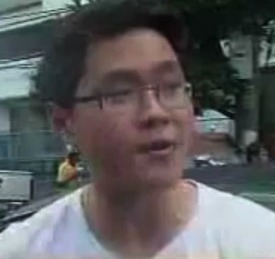 I wouldn't call Chris Lao stupid. What happened to him was kind of silly but silly things happen to the best of us in the worst of times. But it is not everyday that a news crew would happen to be standing around to record everything that is happening while we decide to do or say something silly.
I can think of a few different scenarios around how Lao will have got himself stuck between a rock and a hard place. I can imagine that he saw the flooded street, stopped to mull over his options, assumed that the cars parked after the flooded part of the street probably passed through it earlier and thought to himself, "I can do this too".
Or maybe he saw the flooded street, didn't stop to think, considered that there were no signs to indicate that the water was deep enough to get into his car, and drove straight for it. Or perhaps he didn't see the flood on the street; drove through it and got a rude shock when the floodwaters almost swept his car away. Or, he saw the flooded street, saw the news crew from afar and decided that he could make it to the six o'clock news. Whatever went through his mind before, during and after the incident, the last thing he expected was the whole country crucifying him for his little adventure.
Whatever way you look at it, Lao was right when he suggested that the "traffic enforces should have already blocked the road". His suggestion is worth looking into. Most countries that put safety as their priority would have installed early warning signs or announced impassable areas to the public to prevent harm to individuals or damage to property. In the Philippines though, individuals are on their own. In fact, most Filipinos don't really expect any member of the Metropolitan Manila Development Authority (MMDA) to be much concerned about the safety of Metro Manila's motorists. The way I see it, it is the majority who are silly for not demanding more from the agency. After all, the MMDA should be on top of these things. Considering that there are some parts of Metro Manila where flooding is a recurring problem, I don't think it takes a genius to think of a way to procure signs that the MMDA can take out of their warehouse whenever flooding occurs.
When I went to the MMDA website, there was actually an announcement that stated that the agency will be inaugurating its "newly-created Flood Control Information Center (MMDA – FCIC), a nerve center for the agency's flood control and disaster-related operations." It is supposed to "comprehensively monitor Metro Manila flood-prone areas and provide crucial information needed to make policy decisions in crisis situations." Here is an excerpt of the announcement from the MMDA website:
The Center is equipped with sixteen LCD monitors connected to over seventy closed-circuit televisions trained on key Metro Manila intersections, flood-prone areas and pumping stations.

The Center will tap PAG-ASA and other international satellite-based weather monitoring services and utilize an Incident Management and Map Navigation Software that will collate information on flood and other disaster-related incidents. It has a floor map of Metro Manila and outlying waterways that will help trace communities that would be affected when water systems overflow.

"It's a decision support system," said Ramon Santiago, head of the MMDA-FCIC, "especially for emergencies. It collects all information regarding floods and operating systems, especially our pumping stations. We'll be able to draw in information from PAG-ASA and information in critical areas so we can plot incidents and what is the response that we have done, and what further measures we need to do."

"The information generated at the Center will eventually be made available to the Metro Manila local government units and the public, to guide them on what to do during emergencies," he added.
If the monitoring system does what it's supposed to do or, better yet, if the operators of the system actually use it for its intended purpose properly, maybe "the Chris Lao incident" will be the last of its kind in Metro Manila — not unless, of course, there is another person who would want to defy the odds and try to battle the floodwaters again with his car.
This new equipment of the MMDA should make our traffic enforcers' jobs easier. We should now expect warning signs on the streets even when flooding is not a recurring problem on a particular area. The MMDA should strictly enforce a no-go zone in areas where streets are flooded. Filipinos should actually demand that the MMDA do their jobs during days when there is flooding. Likewise, Filipinos should hold the MMDA accountable when an accident occurs as a result of a lack of appropriate signage to warn against safety hazards on our roads.
In western societies, city councils get sued when an investigation finds that council officers have been negligent in their duty to protect taxpayers. The threat of a lawsuit actually puts council officers on their toes, hence forcing them to do their jobs. Having said that, we don't really want a society in which people think that everything is just a lawsuit waiting to happen. But a system of checks-and-balances should be in place so we can hold both the corresponding agencies and members of the public to account for their actions.
Chris Lao should not be made a laughing stock. People should not use this as an opportunity to make fun of a suma cum laude graduate who made a silly decision. His dilemma should be a turning point in our society — an opportunity for every Filipino to start demanding more from the agency that is supposed to be monitoring the streets and guiding motorists to safety. After all, there are a lot of people out there who can't rely on using their better judgment during a crisis situation. And crisis situations can be prevented when those in charge think of as many of the possible scenarios that could happen even before these happen.
In life, things are not always what they seem.