The death of Benigno "Ninoy" Aquino Jr is being commemorated today the 21st of August. The fact that this event, which happened 28 years ago today, is so revered illustrates a fundamental problematic aspect of the Filipino Condition.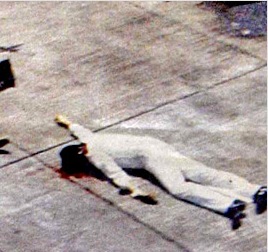 The issues that the Philippines faces in its journey through time — presumably towards that much aspired-for goal of economic prosperity — are complex and systemic. As such, these cannot be solved by one man or one event. They cannot be solved by the handful of silver bullets (constitutional "reform", "elimination" of corruption, or "prayer" among others) prescribed by one politician, lobbyist, advocate, or another. And, just as certainly, singular events as much as they are put up as "seminal" occasions in Philippine history by groups with agendas to pursue, don't necessarily yield sustainable results.
In the collective character of a people lies the more profound driving force of their history. The assassination of Ninoy Aquino in 1983 changed Philippine politics. Unfortunately it did not change the character of the Filipino. So profound a factor character is to the long-term fortunes of both individual and collective that more-readily evident features like their politics are mere reflections of it. As such, though we'd like to imagine that our politics were "revolutionised" in the 1986 Edsa civilian uprising that was the culmination of the mass indignation Ninoy's death incited, the truth has become progressively evident over the almost three decades that followed.
Change continues to elude Filipinos.
This is because rather than clearly define in our heads exactly what we want to change to, all we do is latch on to mere symbols and personifications of what amount to no more than desires to change.
It is quite a poignant irony that the man who rules the Philippines today, Ninoy's only son, Benigno "Noynoy" Aquino III, himself embodies this failure to imagine a Philippines in a way that gives form and substance to what generations of Filipinos have collectively aspired for. Indeed, to lead a nation's efforts to transform itself, you need to put up a notion of what this transformation will ultimately lead to that your people can follow you towards. Are we, going on two years into the Second Aquino Administration, at all clear as to what the Philippines of 2016 (the year Noynoy's term ends) might look like?
The further away from the beacons of "hope" represented by the "seminal" events and the times of the "heroes" we revere in our history we get, the less clear it becomes to us where exactly we are headed. Perhaps we need another such event and another such person to prop up that illusion of tangible "hope" we imagine exists. And then a new cycle of progressive disillusionment starts.
benign0 is the Webmaster of GetRealPhilippines.com.